Hot Wheels are one of the most iconic toys to be manufactured by Mattel, and older models in pristine conditions can be sold for a lot of money.
This is mainly because these older cars are valuable collector's items. If you happen to have some of the older redline Hot Wheels cars lying around, or are planning to buy them to build your own collection, you should find out all you can about why rare redline Hot Wheels cost as much as they do.
What are redline Hot Wheels cars?
The term Redline Hot Wheels cars refers to the cars that were manufactured by Mattel during the first ten years of producing these toys.
In other words, these cars were manufactured between 1968 – 1977. These cars are known as redline cars because the tyres of the cars have a red stripe on them.
Even though there were many different cars produced during this time (with varying wheel sizes and shapes), almost every single car that was manufactured at this time had the red stripe on the tyres.
The only expectations are Rail Dragsters from 1971, two motorcycles from 1975 and some of the military vehicles.
They've become renowned as the Sweet 16 in Hot Wheels history. Hot Wheels immediately rose to prominence in the toy industry.
They sold for a dollar, making them an ideal toy for parents who took their children to the grocery store.
Does a redline guarantee that the car is a true Redline Hot Wheels Car?
Interestingly, even though this range of cars is named after the iconic red stripe on the tyre, every Hot Wheels car with a red stripe on the wheels may not necessarily be part of this elite group.
This is because after 1978, the red stripe was abandoned, and then brought back intermittently after 1993.
In other words, there are a few cars that were produced after 1993 that have the red stripe and if you happen to have one of these cars, note that it won't fall under the RedLine category.
If you're planning to sell these cars, you won't get as high a price as a true Redline.
What are redline hot wheels worth?
Some of those toys from your childhood are now selling for thousands of dollars as highly sought-after collector's goods.
Redline Hot Wheels can fetch you a very high price. The following table shows price points that different Red Hot Wheels were sold at on Ebay.
The price your car fetches may vary based on the model and the bids you receive, however, the table can give you a general ballpark of what you can expect.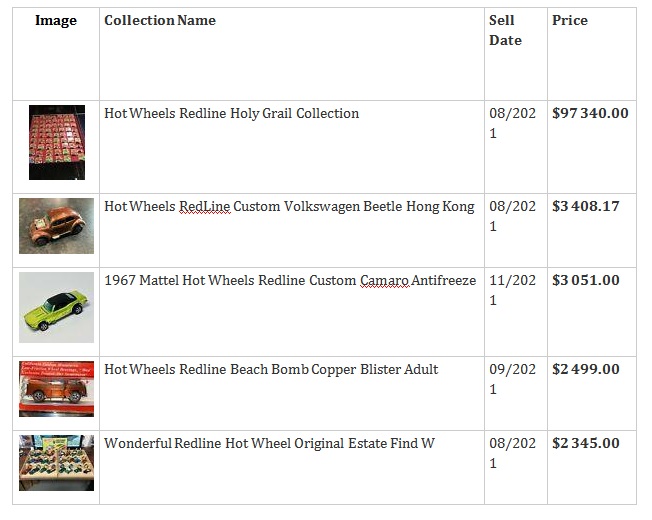 | | | | |
| --- | --- | --- | --- |
| Image | Collection Name | Sell Date | Price |
| | Hot Wheels Redline Holy Grail Collection | 08/2021 | $97 340.00 |
| | Hot Wheels RedLine Custom Volkswagen Beetle Hong Kong | 08/2021 | $3 408.17 |
| | 1967 Mattel Hot Wheels Redline Custom Camaro Antifreeze | 11/2021 | $3 051.00 |
| | Hot Wheels Redline Beach Bomb Copper Blister Adult | 09/2021 | $2 499.00 |
| | Wonderful Redline Hot Wheel Original Estate Find W | 08/2021 | $2 345.00 |
To know more about how to  sell Hot Wheels cars, click here.