Not very long ago, the cosmetic industry was monopolized and highlighted by a handful of popular brands. The commercialization and expansion of e-commerce made new entries easier in the market. New sellers came to the scene and promoted the functions of custom packaging for breaking the ice with new customers.
Technological evolution brought its share of comfort and challenges. Where the expansion of distribution networks, such as e-commerce, gave new windows of business growth, it also made it hard for small brands to foster in the competitive cosmetics industry.
Marketers also view the rise in the use of social media as a big influencer in escalating demand for better cosmetics. People want to project a better personal image and for that, they frequently consume more cosmetic items than compared to a decade ago. This consumption attracts startups to present differentiated products either through the primary cosmetic items or by customizing the band image.
And what better way to do it than by altering the packaging boxes? Surveys reveal that the first touchpoint is when the buyers view and feel the branded cosmetics boxes. Brands that successfully make it memorable, become instant hits. Otherwise, not many new businesses in this industry see beyond their first year of operation.
New here?
If you are just starting out or planning to do so, you need to understand the intricacies of packaging as the biggest marketing tool. Because if you don't, you are at risk of piling costs and going unnoticed at retail stores.
Even for e-buyers, the packaging matters just as much. Hence, brands need to make the cosmetic boxes both their strength and uniqueness as the customers tend to extend the same attributes to the cosmetic business as they do to its packaging boxes!
Pulling through the crowd
Naturally, when joining the cosmetics sector, brands are aware of the level of rivalry present here. They equip themselves with distinct products to make a mark. But what most sellers overlook is the packaging facet of operations. Without effective packaging, customers can't be productively informed of the brand launch and the cosmetic items on offer.
Packaging is the third P of the marketing mix and perhaps the most influential one. It gives a physical and tangible feel of the brand; something that lets customers get a preview of what to expect from the business.
Next, polls suggest that the customers anticipate opening their packaging boxes and determine from this experience whether they want to repeat purchases with the brand or switch over.
But this is not it, there are more angles to cosmetics packaging that are sure to come in handy when setting foot in the industry. Read on to find out:
Regulated box constructions
Branded packaging makes a mark when it is aligned with the overall branding and looks consistent. It can't work to package a cosmetics batch in one type of box and the next in another. Cosmetics come in a lot of variations. The industry is segmented into numerous slots containing eye shadows, lipsticks, face primers, foundations, and hundred others.
Brands can differentiate the Branded custom packaging construct based on the product type. Doing so enables faster brand recognition as customers are better able to retain the brand image when presented consistently. Pioneer brands like L'Oreal package every product creatively but all supporting the same brand image. This has led to global recognition of the brand and a die-hard customer following.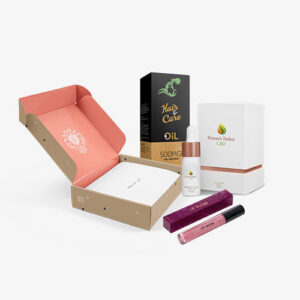 Legal compliance
Cosmetics are regulated by concerned bodies. They make it necessary to display a host of info such as the ingredients used, expiry dates, country of manufacture, usage instructions, etc., mandatory to facilitate the customers. Custom printing is an important part of customizing cosmetic boxes. It helps to comply with all these guidelines creatively.
Custom printed shipping boxes are also easier to comprehend. Stakeholders can handle the boxes as printed on the boxes and store them accordingly too. Lately, many governments have set precedents to be followed for shipping boxes. Going custom helps to be in sync with these and hence, ensuring that the boxes are not returned for being incompetent.
Please customers
Cosmetics are valued because of their ability to uplift personal looks. People thus demand the same from its packaging too. Shopping experiences are rated higher when the business displays the products in well-designed boxes.
The modern age has also evolved the way customers perceive cosmetic brands. It is now not only relevant to deliver functional products but also to deliver them distinctly. The boxes are shaped and sized creatively as well as designed with innovative patterns to impart good feelings about the company.
YouTube and social networking sites are flooded with unboxing videos conveying personal experiences with brands. It is a direct way of reaching out to more customers and encouraging a loop of good reviews.
Save excessive spending on packaging
Custom boxes are actually cheaper to get, contrary to common belief. Customized cosmetics boxes help save packaging and numerous other costs by:
Using materials only as required. Custom measurements help to use the box materials effectively as compared to obtaining larger standard boxes.
Well-fitted boxes hold and store the contents properly. They are less susceptible to shakes and rough handling.
Allow branding. Boxes printed with custom branding elements enhance the customers' attention on the cosmetics brand and make the packaging look better than others. It saves marketing costs by using the boxes for promotions too.
Communicate with customers. Extra sales staff are not required in large quantities as the boxes are self-promoting and self-explanatory.
Reduces assembly times and labor hours. Customized cosmetic boxes are created with the help of professional designers. They send the boxes on time and construct them to be assembled rapidly.
Costs cuttings along with improved sales figures establish the cosmetic brand firmly in the market. Many new startups are dominating the industry at the moment owing to their out-of-the-box custom packaging.
Conclusion
Brand's future becomes more effective with customized cosmetic packaging. The multiple facets of such packaging elevate the brand appeal.