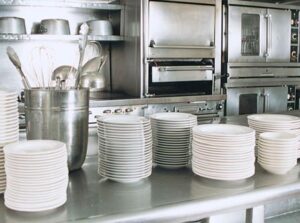 To step into the hospitality business, there are many minute factors that one must know. This is especially true for restaurant business owners. Good food is elemental undoubtedly, but the right restaurant equipment supply also makes a major difference.
But what are the essential supplies to begin with?
You can learn the basics of starting a restaurant business when you have a thorough idea about the purpose of the different equipment. Here is a checklist of six elements needed to start a restaurant business, along with an explanation of why they are so important.
Commercial Kitchen Appliances
The restaurant equipment supply that is the heart and soul of the business is the kitchen appliances. If you want to create a versatile kitchen, you cannot compromise on its quality or leave out certain appliances.
The choice of appliances largely depends on the type of food you wish to serve, along with the beverages. Here are a few such items that are generally needed at all kinds of restaurant and food joints, to begin with:
Ovens
Food Processor
Grills
Blenders
Pots and Pans
Mixing Bowls
Chopping Board
Set of Different Types of Knives
Espresso Machine
Cocktail Shakers
Ice Trays, Crushers and Buckets
Strainers
Corkscrews/Bottle Openers/Can Openers
Refrigeration and Storage
To solve the issue with leftover food, a proper storage system and refrigeration is essential. Even for new ventures, refrigerators designed for commercial use are necessary.  This means one has to invest in high-capacity industrial fridges, storage racks and glass racks.
Apart from this, it is wise to invest in separate freezers for meat and vegetables. Drying racks are also crucial so that your cutlery and utensils are usable the next day. Apart from this, industrial plastic wrap is a useful item that can come in handy for various reasons around the kitchen.
Apps and Equipment for Varied Payment Methods
Besides the restaurant equipment supply, you must consider the payment modes you offer to the customers. You will need different gadgets and applications based on whether you have card payment options.
This includes a POS platform for restaurants and an EFTPOS machine that can save time and reduce keying errors while billing. Your restaurant services remain incomplete when clients are not offered flexible payment options.
Equipment to Maintain Hygiene and Security
A restaurant gains popularity because of its food, service and overall hygiene and ambience. The hygiene depends on regular cleaning and maintenance as well as the products used. Mops and buckets, enough trash cans and industrial cleaning products are a must.
You must also invest in "wet floor" signs, fire extinguishers, and similar safety equipment. Do note that there should be at least a few staff who know how to operate these pieces of safety equipment too.
Furniture and Showpieces
Last but not least, you must choose the furniture and showpieces around the restaurant very carefully. To do this right, one must study the restaurant's blueprint thoroughly. This will help to get maximum utility from available space.
The furniture includes the front desk, tables, chairs, etc. Small flower vases or showpieces for each table have an added charm too.
Conclusion
The various restaurant equipment supply that is the basic necessity to start a restaurant business is listed above. Besides these, many other items will be needed, but more than that, skilled professionals are also elemental to drive the business forward.