Why Set-top-box became a Need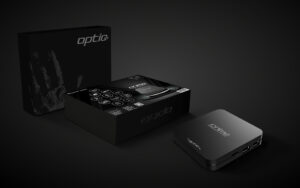 As the world is continuously growing day by day, the mode of entertainment has also been evolving from the start of time. Televisions became a major mode of entertainment in the early 19's. Antenna connections were used early on, then came the local cable distributors, and then google was the final nail to the coffin for these broadcasting systems. Set-Top Box is a google based smart TV platform that lets the user choose whatever mode of entertainment anywhere, anytime. Moreover, these TV boxes are equipped with incredible features such as UHD videos, Android 10.0, and more.
What features make the Optic STB more preferable than other well-known brands?
In an emerging market of smart TVs and boxes, Optic STB has made a name for itself by providing features that they have promised. There are many reasons for the increase in their commercial market popularity. Some of them are as follows:
Stable Market Competition
Remote Control Unit
Storage Capacity
Unboxing Experience
 Stable Market Competition
As a growing market, staying ahead in the competition is also one of the key strategies. Let's discuss Formuler, a very well-known brand in the market for smart TV boxes. They have the goodwill of being the best in the market, but now that goodwill is diminishing as time passes, because of not innovating themselves and not introducing new features in their boxes. Their RCU has many buttons that are just for the show. Moreover, the storage capacity of their boxes is also not satisfying the customer's expectation. Therefore, Feedback from the users is valuated in Optic STB. Because they facilitate their users with 4K streaming quality, the heavy storage capacity of 64GB and 4GB DDR4 RAM and many more. That is the reason they stay ahead in the competition and try to fix bugs through regular updates.
Remote Control Unit
Nowadays false advertisement of features is being done by many well-known companies  in which the listed aspects of the product are often bogus or sometimes they are not even present at all. But not in the case of Optic STB. They promised and they delivered. Even the device used to give the command to the box-like remote control unit (RCU) has been produced with users in mind. Backlit key buttons for the RCUs, dedicated 16 buttons for specific functions like home button, search button, etc. You don't have to go through complicated settings to access any of its main features. The RCU has sleek designs with replaceable batteries having a wide-angle Infrared Blaster.
Storage Capacity
Optic STB GT-X Pro is one of the first from its competition to get a whopping 64 Gigabytes of internal storage. At Optic STB, they have listened to the feedback from the user and innovated themselves to get more storage capacity however possible, so the user won't feel the need of plugging external storage devices. Saving their favorite shows right onto the internal storage watching them later at any time of the day. Entertainment has been made much easy by Optic STB. Formuler flagship product right now is Z10 Pro Max, in which the storage capacity is no more than 32 Gigabytes. The storage of Optic STB GT-X Pro does not only have a large storage, but it is also extremely fast and highly efficient. The loading times of apps have been highly reduced because of their fast storage, so the user does not have to stare at the screens for too long and get bored even for a second.
Unboxing Experience
Satisfying customer is the top priority of the Optic STB Crime box. A customer's feeling should be at prime when using Optic products. Optic's STBs are packed for a premium experience and packaged with a lot of care including all the accessories like the box itself, power adaptor, optical cable for a better sound experience, HDMI cable for connecting to the TVs, remote controller for accessing the set-top box and a user manual on how to properly use all the function and how to get full use of its features. But if you see on the other side, it means Formuler they don't even bother to package all the accessories required to set up these boxes and are available for standalone purchase for more profits, by which the customers have to buy some of these accessories separately that increase cost.