You've bought trendy and durable area rugs or carpets for your living room, bedroom, kids' rooms, or entrance area. So, you can't wait to unroll it when it arrives. But you must keep it in mind. That the rug may be curled, wrinkled, and bent. Moreover, wrinkles and stiff creases may occur. If you will open the rug or carpet which has been folded or rolled in storage.
Thus, most of the area rugs need proper methods or tips to flatten them. This may need some extensive. But you must not worry. Here are some 9 simple tips to make your rugs and carpets flat again. So, you can style them in your home asap.
List Of Tips:
Where To Buy Affordable Area Rugs
Let The Rug Settle:
The first suggestion is to relax. So, if your rug just arrived. Thus, you have unrolled it. But it has some wrinkles and creases because of shipping or tight wrapping. So, let the rug be smoothened and lay it flat on the floor. Thus, the rug fibers will take 2-3 days to relax and flatten on their own. 
Sometimes all you need is the resilient gravity force and subtle patience to flatten your rugs. For tremendous results make sure to spread your rug on the stiff and hard floor to relax your rugs. 
Steam The Rug:
You can also steam your rugs to make them flat and wrinkle-free. So, make sure to first read well about the rug's details. Steaming a rug needs a professional. 
Moreover, you must make sure of a few things before you go for rug steaming. Like the colorfastness of the rug. As steam can destroy your rugs by making the beautiful colors on the rug bleed.
Please visit: https://ruggallery.net/collections/red-rugs
Stretch The Rug: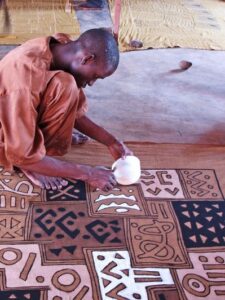 Stretching a rug can also be the solution to flatten the creases and wrinkles. So, you can simply ask for your carpet dealer's help. Ask him to stretch the rug or carpet out. 
Thus, if the rug is pulled and slowly stretches. The wrinkles may relax. However, this can only be done with the help of professionals. Such inappropriate stretching can damage or tear the rug or carpet.
Flip Over It:
In most cases, rugs have wrinkles around the corners or edges. So, even if the whole rug is flattening. The edges or corners are still bent. Thus, you need to read the direction of the wrinkles of the corners. As it curls in an upward or downward direction. 
Thus, if the curl is upward, flip it under and leave it for 2-3 days. And if the curl is underway simply straighten it and place any heavy object on it. Like a piece of furniture or a heavy book. Keep it until the rug fibers relax and flatten fully.
Tape The  Rug On Floor:
The fastest way to flatten the rugs is by tapping down the rug. So, simply go to any furniture store. And buy a double-sided carpet tape. Thus, apply this tape to the back of your rug and it will stick to the floor. 
This will hold your rug in its place. Thus, it will flatten the old creases and also prevent new ones. Moreover, carpet tape is best for both hard floors and wall-to-wall carpets. Make sure to press firmly and smooth the rug down before sticking.
Roll The Rug Again:
In some cases like small rugs and carpet. You don't have to wait for more than a few minutes to place your rug in your home after unrolling. Thus, sometimes you can simply unroll your rug. And then they roll it again in the opposite direction. 
Visit also: https://ruggallery.net/collections/aqua-rugs
This may help in flattening the rug in no time. So, if this doesn't work efficiently. Simply leave the rolled rug for 2-3 days and then unroll it. Hopefully, this will work out.
Iron The Rug:
So, after doing all the above tips. But still no result. Thus, you can simply take help from your trustee iron. Simply iron the curl and wrinkle area on low settings. Moreover, make sure to use a potential barrier between the rug and iron heat. Like quality craft papers and stick-free cloth pieces. 
In addition, keep the iron heat at the lowest to avoid any damage to the carpet. Like iron can cause scorching, melting, and other damage to rug fibers.
Sun  Dry The Rug:
On one fine and sunny afternoon take out your wrinkle rug. And throw it over a heated hard floor. Thus, the floor has absorbed enough heat. So, it will help greatly in flattening the wrinkles and creases of your rugs and carpets. 
Use A Hair Dryer:
After failing to remove the wrinkles from all the above tips and tricks. So, you can now use your hairdryer to do the job for you. Simply use it on the backside of your rug or carpet. Thus, to avoid melting of rug fibers. Keep the dryer at 6-9 inches away from the rug. So, keep the dryer set at low to medium heat. Make sure to keep it moving in all directions.
Where To Buy Affordable Area Rugs:
So, if you're looking to buy highly affordable and durable Area Rugs. The one trustee location is The Rug Gallery around the USA. Check out the latest designs and durable material rugs and carpets.
Conclusion:
Buying an area rug and then decorating it in homes requires a lot of pre-steps. Usually, carpets shipping and tight wrapping made them wrinkled, bent, full of ripples and creases. So, before placing them on the floor. They need to be flattened and wrinkle-free. Thus, making them flat is now a bit simple by reading our above guide. Follow all the above tips and tricks to flatten your rugs and carpets. And prevent them from further wrinkles and creases.