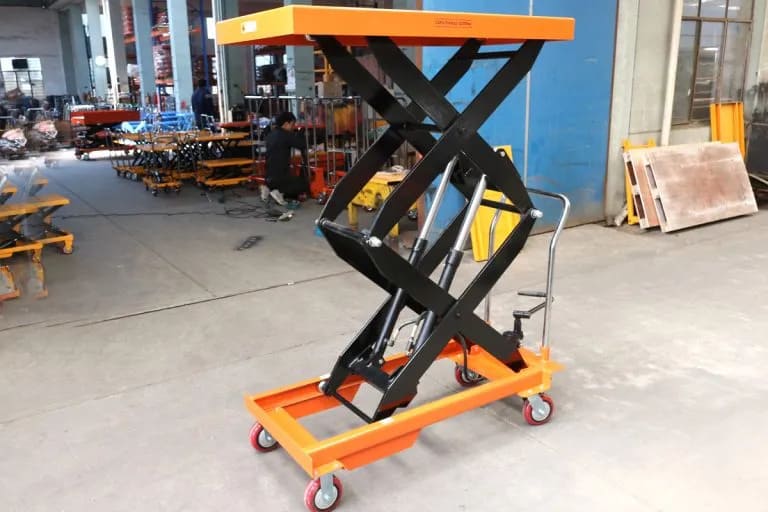 As the name suggests, a lifting trolley is a mobile lifting table that lowers for ease of use, allowing one person to lift heavy objects at the appropriate working height, even with heavyweight products. The lifting trolley is solid and dependable and can be used as a workbench or for stacking.
In the scissor lift trolley, an air or hydraulic control system pumps fluid from a reservoir to the operating cylinders. Hydraulic cylinders push outward for upward movement, raising the platform by separating scissor legs.
The Advantages of Scissor Lifts
Scissor lift trolley tools provide workers with easy access to high places and hard-to-reach places due to their ability to reach heights up to 32 feet.
● Ease of Use
● Compact Size
● Minimal Floor Space
● Easily Customisable
● Cost-Effective
Is a scissor lift safe?
When used according to the manufacturer's instructions, the scissor lift trolley provides a safe and dependable platform for workers to perform job tasks. Scissor lifts can be dangerous to workers if not used properly. Employers are chargeable for preserving their personnel's security.
The Platform: Also known as the lift table, the platform is the upper part of the scissor lift made of rails and a flat surface connected to the scissor legs. Its primary purpose is to provide a stable surface for placing goods or to serve as a vertical space for workers involved in operations. Those used primarily for elevating people are usually equipped with guard rails to prevent falls.
The Base: The base of the scissor lift is the bottom-most part and houses the machinery that is essential for supporting the scissor lift's vertical and horizontal movement.
Scissor Legs: These are a series of interconnected crisscrossed metallic frames that support upward and downward movement. The scissor legs are extended for an upward trend using a cylinder that can be filled with either air or hydraulic fluid. The pressure in the cylinder is released to allow for a downward direction, allowing the scissor legs to contract.
Cylinders: By retracting the lift, the cylinders are provided with an upward thrust, allowing them to move up and down. The cylinders of a scissor lift can be filled with hydraulic fluid or compressed air, depending on the model.
Power source: The scissor lift's lifting mechanism's power is generated by the trolley power source. A scissor lift can be powered in various ways, including hydraulics, compressed air, electricity, and diesel.
What is the mechanism of a scissor lift?
Scissor lifts use move stability helps to transport up and down. The mechanism used to transport the carry up and down relies upon the manner it's powered. Hydraulics, diesel, and strength are only a few approaches scissor lifts may be powered. You'll usually discover scissor lifts used for several duties, from constructing upkeep to attaining substances saved excessively in warehouses.
Please look at the manual underneath to find out about the one-of-a-kind components of the lift, how its electricity assets affect its lifting mechanism, and how operators live securely on a scissor lift.
How Do Operators Stay Safe on Scissor Lifts?
Operating at incredible heights poses apparent protection dangers for operators. Here are some approaches you may use to live securely on a scissor carry.
● Conduct pre-operation protection to ensure the whole lot works properly, such as the brakes and emergency forestall button.
● Confirm all team participants acquired education and are acquainted with the scissor carry in use for the day.
● Clear the encompassing region of ability protection hazards.