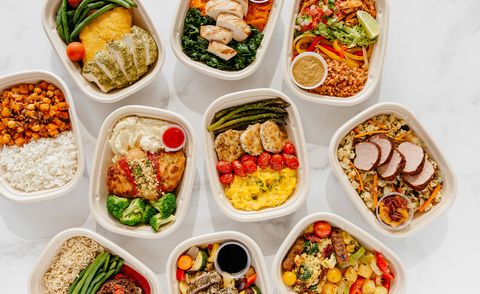 While it's true that nothing beats a home-cooked supper on a cold winter night, the reality is that most of us don't have the time or energy to make one after fighting our way through rush hour traffic and getting home from work. When people spend a couple of minutes staring into the refrigerator and come up empty, they always take something premade from the freezer and microwave it. Ready made meals are meals that have already been prepared and need to be heated. Nowadays, gourmet food is readily available, covering various cuisines and diets. The newest ones, which might be the healthiest, are packaged so that the container can be used as a steamer to heat the raw food (usually fish, chicken, or vegetables) right before eating.
That people prefer to eat frozen, pre-prepared meals is not shocking. They're fast, handy, affordable, accessible, and proportional. Of course, the challenge is finding frozen meals that are both nutritious and flavourful enough to eat without feeling guilty or jeopardising your diet.
PROS
The rise of convenient services like meal kit delivery reflects the significant demand for ready-made meals. For many busy folks, cutting out all cooking time in the week and the decreased need to purchase groceries or plan meals may promote a healthy, regular diet.
Ready-made meals may also be adaptable to fit demands as they can be:
Bought in-store for immediate consumption
Kept in the fridge as meal alternatives for busy days, late night work circumstances or feeding hungry family members when you have your responsibilities to attend to
Frozen and utilised for emergencies, decreasing the dependency on low-nutrient take-out options
Delivered to your front porch as a part of a weekly "meal plan" that meets your health and nutrition objectives
selected for their ability to help with weight reduction, insulin resistance/diabetes management, or an intolerance to particular foods
The projected decrease in food waste makes it more financially viable.
Tips for Choosing a Pre-Packaged Meal
Finding a healthy, balanced meal that is not too rich in fat or salt and has a range of nutrients allows for frequent consumption. However, many pre-packaged meals have unhealthy amounts of salt and other minerals.
Shoot for between 350 and 500 calories each day. Most people do well with a lunch that ranges from around 350 to 500 calories. Many frozen meals might have more than 800 calories, which is too much for most individuals. Also, some meals have fewer than 200 calories, making them hardly more than a snack; such a quick meal would not supply enough fuel and nutrients to be considered a full meal.
Mind the stuff you put in your body. You may gain weight if you eat more than the amount shown on the nutrition facts label. For the most part, you should look for high-quality, recognisable ingredients. Choose a dish with fewer components. Depending on the brand, certain pre-made meals might be very processed. (Keep in mind that "non-GMO," "gluten-free," and "organic" do not automatically equate to "healthier" unless you have a gluten sensitivity and need a gluten-free diet.)
Lower your intake of unhealthy fats—these are the "bad fats" linked to an increased risk of developing cardiovascular disease. You shouldn't eat more than 3 g of saturated fat daily and never eat any trans fats. Keep in mind that producers can lie about the number of trans fats on a nutrition information label by listing 0g even if there are up to 0.5g. Trans fats are found in products with "hydrogenated" oils in the list of ingredients.
You should have enough protein and fibre. Measure out your portions. Check the portion sizes before you buy. Food labels can mislead consumers about the number of servings. You may gain weight if you eat more than the amount shown on the nutrition facts label.