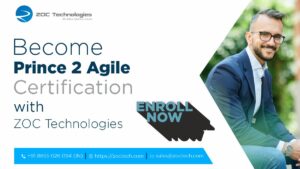 Project management, starting from ideation, planning, and assignment distribution to execution and deployment, is an integral aspect of corporate architecture. When a project is received from the client, it is the responsibility of the project manager to stay at its helm, guiding and supervising the team for seamless and timely delivery of the project. Project management is the glue that holds everything together, and you can master that art by getting a PRINCE2 foundation certification.
Being a generic project management training and certification program, PRINCE2 has significant demand among professionals. It is one of the most sought-after professional courses at Zoc Technologies, more so because they offer a comprehensive e-learning module and the promise of a 100% passing guarantee. We will get there, but first, let's do a quick review of the course, covering essential details like duration, examination format, eligibility, and PRINCE2 certification cost.
PRINCE2 Training: Know About the Course
PRINCE2 is a structured methodology used in project management known for its generic approach compared to its peer models. Initially developed by the UK government, it was later on passed on to AXELOS Ltd. PRINCE2 is a globally recognized training and certification program concerning project management that has been widely adopted across the UK, European countries, and Australia.
PRINCE2 can be tailored to fit the requirements of a diverse range of projects, which is one of the main reasons why it has gained so much traction among professionals and enterprises.
The training and certification are perfect for team leaders, project managers, project board members, business analysts, software developers, and other professionals involved in handling projects. PRINCE2 as an approach can be adopted by enterprises as well for manage and deploy every project. There is no eligibility criterion for one to undertake the training and sit for the certification exam.
Course Duration
The course duration and module vary in each institute. At Zoc Technologies, the candidate can opt for an e-learning facility. PRINCE2 Foundation certification training extends for 36 hours (4 days, 9 hours each) and includes simulations, theoretical explanations, practical lessons, and tips to prepare for the exam. The candidates are given pop-quizzes and mock exams so that they are well-prepared during the actual exam. No wonder the institute has a 100% passing guarantee.
Must Read: PRINCE2 Foundation certification: The emerging training program needed to climb the corporate ladder
Why Enroll at Zoc Technologies for PRINCE2 Training & Certificate
With so many institutes offering PRINCE2 training, why should an aspirant choose Zoc Technologies? One might think, and rightfully so! Here are a few reasons why:
The training module upholds international standards. It enables you to stay ahead of your peer's learning at other institutes.
The instructors hold adequate industry knowledge and are highly qualified.
All course materials are accredited by concerned bodies.
The training and PRINCE2 certification costs are reasonable.
Zoc Technologies offer career mentoring and counseling services, unlike any other training institute.
The candidate can access affordable resume-building services.
Above all, Zoc Technologies has an unscathed reputation in the market, so the candidate can rest assured that he/she is getting trained by industry veterans. So what are you waiting for? Gather all relevant details regarding the PRINCE2 course and other professional courses and enroll in the upcoming batch. Embark on your journey to professional excellence today!