Looking for a proper guideline to clean your coffee grinder? If the answer is yes, then you're now in the right place.
"How to clean a coffee grinder" is a very common question that almost every coffee maker asks nowadays. Let me tell you that cleaning a coffee grinder out and out is not a piece of cake that anyone will be able to do this.
But, have it in your mind that you can properly clean your coffee grinder once you know about a few steps altogether. In this article, we're going to break down those tactics for you so that you yourself can easily clean your coffee grinder today.
So, keep reading this article until it finishes.
How to Clean A Coffee Grinder:
Whether you use a burr or a blade grinder to grind coffee, you must see that gummy substance is covered every portion of the coffee grinder after every few days of use.
And if you feel lazy to remove them, then this gummy substance may be more obvious a few days later. Every, you can totally lose the ultimate taste and fragrance of coffee. Very likely, you'll understand that the coffee, you're drinking, is bitter.
For this reason, it's important for you to know "how to clean a coffee grinder" out and out in order to clean it after a few day intervals. On this consistency, we've broken down all the steps in this article. also known as propeller grinder
Let's go inside the steps!
The very first duty of you is to clean the hopper with a vacuum. Switch on the vacuum and then rotate everywhere inside the hopper. Keep it a few seconds in front of the hole so that airflow downside easily.
Isolate The Hopper And Clean The Inside:
Once you've clean the hopper out and out, now you're ready for the next step. Right now, isolate the hopper and then clean the inside with the vacuum.
Now, install all the parts at their place rightly. And then put some rice in the hopper. Switch on the coffee grinder in order to grind the rice.
Put a dish above the coffee grinder's hole to take the ground rice. Thus, all the internal parts of the grinder will be cleaned neck, and crop.
Wipe All The Removable Parts With A Damp Towel:
Once you've completed all the previous jobs, now take the next step. Right now, wipe all the removable parts with a damp towel. In addition to this, if possible, then wipe the whole outside of the coffee grinder once.
Thus, you'll be able to clean your coffee grinder neck and crop.
How Often Should You Clean Your Coffee Grinder?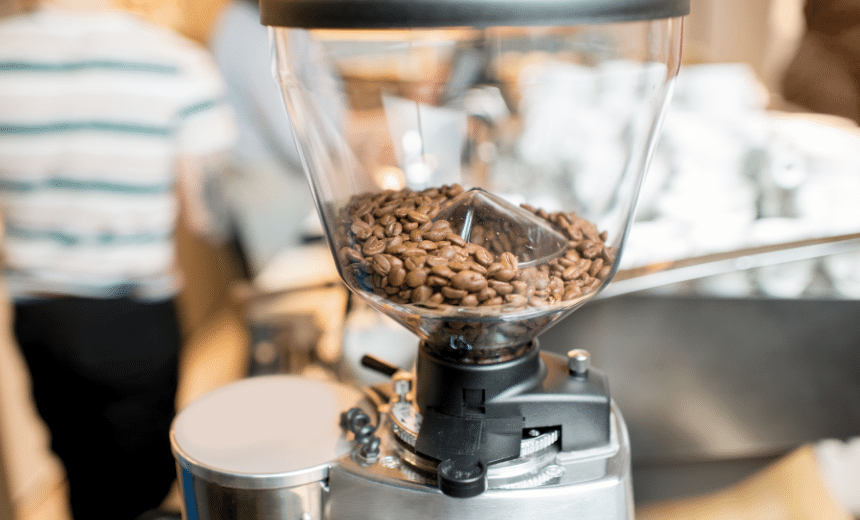 Many of us want to know how often they should clean their coffee grinder. We typically recommend you clean your coffee grinder at least once a week. But, if you notice that the inside of the grinder of somewhat oily and damp with small substances, then clean your coffee grinder instantly. In this case, don't wait for the weekend.
If you avoid this, then there is a tendency of changing the coffee color, flavor, and aromas. Eventually, your coffee may get bitter out and out.
Final Verdict:
In a nutshell, we've tried to expand all the main steps that you need to follow to clean your coffee grinder altogether. We hope that you guys have got a clear concept of how to clean a coffee grinder.
Now, let us know by commenting below if you have any more questions that are related to this article.
Have a nice day with your family members!