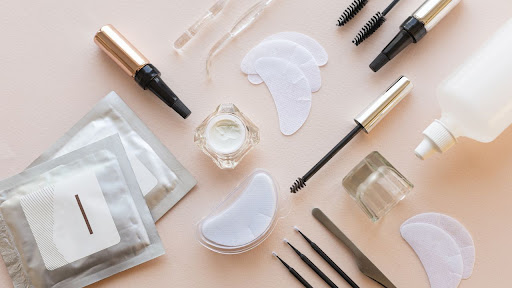 Achieving the perfectly pointed brow can be an arduous thing. Whether you are a waxer or a threader person, we know that the whole procedure of getting the perfect arch, the perfect length, and the perfect shape gets too painful.
Yet, we do it! Cause, well-shaped eyebrows are the doorstep to a clean defined sharp face. We absolutely love the look we achieve after the entire grooming session. To have great eyes for your makeup, apply eye contour gel to prep it in the morning.
But, if you're new to this eyebrow game and probably confused about what and how to start with, then here are all the basic tools you'll need to achieve your perfect dream brow!
Eyebrow tools and the types
Eyebrow tools are makeup instruments that are specially designed to shape and define brows. These tools groom the eyebrows making them look clean and sharp.
Tweezers, brushes, razors, and stencils are some of the commonly used brow tools that are easily available in almost every household, shop, and salon.
Let us elaborate on each of these widely available tools to you.
Tweezers: Plucking out the unwanted ingrown hair is best done with a tweezer. Whether you're out of time or you just need a touchup, tweezers are your good catch.
Keeping the right pair of tweezers handy can really help you at times. From pointed tip to round tip, and from arched to wide grip, every tweezer has its own unique feature.
So, before you choose to buy one, make sure you know the uses of each type and the pros and cons.
Slant tip tweezers: These tweezers are ideal for plucking any extra brow hair. As the shape is slanted, these tweezers grab perfectly any hair and easily pluck it out in no real-time.
Pointed tip tweezers: The best tweezers for hair plucking the thinnest and smallest size of ingrown hair. Due to its pointed end, these tweezers can pluck out any specific finely popped ingrown hair. But, you need to keep your hand steady while using it, because a pointed tweezer is a little dangerous to handle, as you might accidentally stab yourself with that tweezer.
Pointed-Slant tweezers: A tweezer that is pointed as well as slanted. This is a two-in-one tool that provides the feature of both the slant tip and pointed tip eyebrow plucker in a single one. All you need to do is point out that specific hair, grab it perfectly and pull it out from its place.
Arched Claw tip tweezers: While all the tweezers don't provide the facility to see through which hair you have grabbed, these hair pluckers are the savior. We say these are the best tweezers for eyebrows, as they provide a very precise grip and you can absolutely see which one hair you are pulling out from its place.
Wide Grip tweezers: From the name, you can guess what is the job of this specific type of tweezers. For people who think they can get messy while doing the work, wide grip tweezers give a bigger surface area to hold and do the work.
Round tip tweezers: Safer to use, these tweezers are not the best tool to pluck out that specific hair you want. But, round tip tweezers can provide the access to pull out hair from different angles which makes it a customer-friendly option to buy.
Flat tip tweezers: These tweezers are not the basic type of tweezers. They do not provide any help in plucking out hair but are usually used to apply false lashes to your eyes.
You might want to check a few tweezers for eyebrows on the Health and Glow website
Eyebrow brush: Brow brushes are used for grooming and shaping purposes. You can comb out your brows with these brushes to make them look fuller and well-shaped.
These products are even used to blend out the brow powder which is applied to the eyebrows to fill up the patchy blank spaces. Easily available at any local and online store, they are usually sold as a combo of eyebrow pencil with brush.
Eyebrow razors: Just when plucking hair is not enough and you need something else to remove the fine hair from around the eyebrow area, these razors come into play.
Finding a tweezer for facial hair is difficult and we suggest you use these razors to trim each and every hair around the eyebrow and face. Eyebrow razors are different from the other usual razors, as their shape is more angled, which helps in precise easy shaping and trimming.
You can also use these razors to remove peach fuzz from your forehead, upper lips, cheeks, and chins. This leaves the face looking more smoother and softer.
Stencils: For people who are not good at making the perfect brow shape, this product is for you. A brow stencil can help you shape your brow like a pro in no time and effort.
All you have to do is find a stencil that matches your natural shape and then fill it up with your convenient brow powder or pencil and you are all good to go.
Now that we have elaborated everything about eyebrow tools and tweezers, you can easily achieve the dream brow shape and look you need.
Also Read: Things To Do When Opening Your First Restaurant.