Dubai is the dream destination of every kind of a traveller that never fails to surprise the visitors with its man-made wonders like Burj Khalifa, Artificial man-made island and its fantastic architectures. The city features all kinds of destinations from beach, desert, island, largest buildings, frames, adventures, amazing shopping experience, nightlife and many more. Dubai is popularly known as the city which breaks its own record, be sure to know some of the travel tips before heading to the city.
While planning your trip to Dubai, be known with some of the important information. And we have listed you some of the main essentials to visit Dubai. Check out the Dubai Tour packages to book your next trip and make it a memorable experience for lifetime. 
Dubai Visa and Travel essentials: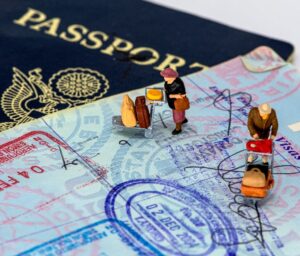 Image source: Unsplash
Visa is the most important document to enter Dubai City since it shows all the information about the entire trip. It is recommended to carry the return ticket also. If you are a person eligible for visa exemption or visa free entry to Dubai, in such cases you don't need to have a visa to enter Dubai. For Indians the visa process will take about 3-4 working days. Make sure to carry your travel insurance and Dubai's AED currency. 
For Indians it is advised to exchange the INR to AED from the Dubai Airport or from the Malls.

You can also carry credit/debit cards to withdraw AED from ATMs.
What is the best time to visit Dubai?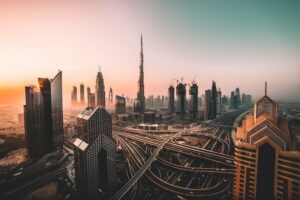 Image source: Unsplash
Winter is the best season to visit Dubai, the months from October to April. You should consider the weather and the season before planning for any trip. Winter is the comfortable season for sightseeing whereas in summer you will be having unbearable temperatures to go out.
What to dress in Dubai?
Usually Dubai dwellers are very serious about dress codes where it is preferred to keep your shoulder and knees covered while visiting the public places. Though shorts and sleeveless are accepted in many of the tourist places it is advised to better avoid tight-fitting clothes to prevent unsolicited attention.
Best places to stay in Dubai: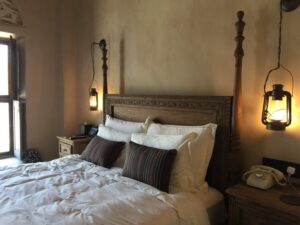 Image source: Unsplash
As the major tourist destination you can find the city full of hotels where it will range from budget-friendly to most expensive and luxurious ones. I recommend you to visit many accommodation aggregators and compare the rate offered by different hotels and the facilities you need for the stay. Here I say some of the best accommodation such as,
Atlantis, The Palm

Burj Al Arab

W Dubai – The Palm

Four Points by Sheraton Downtown Dubai

Pullman Dubai Creek City Centre
Best places to visit in Dubai: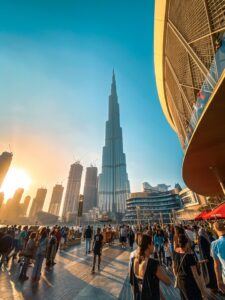 Image source: Unsplash
Each and everyone will know that, when it comes to Dubai our mind will directly pop up to the most iconic attractions called "Burj Khalifa" and "The Palm". The other major tourist attractions that you should never miss to visit are Dubai Mall, Dubai Mountain, Dubai Fountain, Burj Al Arab, Jumeirah beach and many more. It is impossible to count the number of attractions since the city has many more things to offer every kind of a traveller.
Where to eat in Dubai: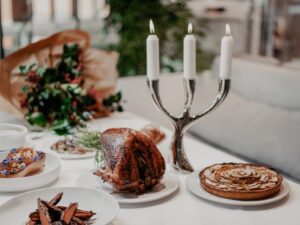 Image source: Unsplash
Dubai has a wide variety of food options to offer the tourists from different parts of the world. You can enjoy the foods from traditional UAE dishes, Chinese, Indian, American, Italian, Thai foods and many more. Dubai's most popular dining areas are City Walk, The Beach (JBR), Walk (JBR), Deira and mid-range restaurants. You can also find a wide variety of street foods in every corner of the street on your way towards any attractions in Dubai.
Dubai main festivals and seasonal attractions: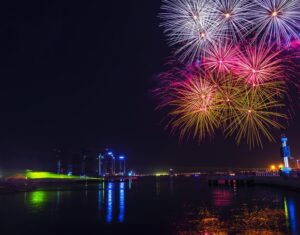 Image source: Unsplash
Dubai's main traditional festivals that were celebrated majorly are Ramadan, Eid-ul-Adha, Eid-ul-Fitr. And also Dubai is the hub of many cool festivals. Winter is the season where most of the festivals happen, like Christmas, New Year's Eve and Halloween. As I mentioned above, the best time to visit Dubai is from October to April. It is also for having a lot of festivals and celebrations to enjoy the seasonal attractions like Miracle Garden, Dubai Garden, Global Village etc. Of course Dubai is not a year round ideal destination for the tourists because of the hot temperature in summer. 
We have come to the end of the article where I just hope all the information given above will be very much useful to you in finding the best place to stay, visa information, best food to have, the Dubai's festival, eatable in Dubai, the best time to visit and all. Check out the Pickyourtrail website to have a look at the packages they offered not only for Dubai but also for many other International packages. You can also customise your own itinerary package based on your likes and preferences that suits you the best.
HAPPY TRAVELLING!