For many admirable aesthetic and heartwarming artifacts, Greece is a great place to be. With so many wonderful monuments in Greece, islands, beaches and centuries-old histories! These has made Greece a center of attraction for tourist. Also, Greece is a country that you can never get enough of! Rated as one of the best honeymoon destinations in the world, there are also many historical monuments to explore on your Greece vacation. Let us dive in and know more about the best historical monuments in Greece!
10 amazing monuments to visit in Greece
Acropolis of Athens
Ancient Delphi
Mystras
Meteora, Ancient monasteries
Temple of Olympian Zeus
Monument of Alexander the Great
Statue of Athena
Temple of Apollo
The Medieval town of Rhodes
Mount Lycabettus
Acropolis of Athens
Image Credits- Unsplash
The Acropolis of Athens is one of the most important and inevitable monuments in Attica, Athens in Greece. Also, it is one of the most significant UNESCO sites in Greece. It is believed that the rocky flat hill has been inhabited since 425 BC. This notable monument is located on a flat rock with many significances. Since it was established during the Neolithic era, you can also find many artefacts that date back to the prehistoric, Neolithic and early Neolithic eras. The Hellenistic, Roman, Latin, Ottoman, and Byzantine period artefacts are some of the most precious and important artefacts found here. This is unpretentiously one of the best monuments and a must-visit place to be added to your Greece tour packages!
Ancient Archaeological site of Delphi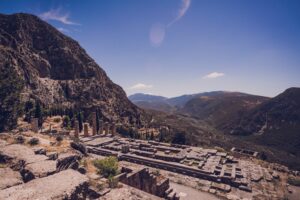 Image Credits- Unsplash
Ancient Delphi was a sacred sanctuary built in dedication to the powerful Greek god, Apollo. Because, according to Greek mythology, it is believed that Delphi is the place where Lord Apollo spoke to people. Also, it is believed that two eagles released by God Zeus met at Delphi after years and which is why this town is called the eyes of the world according to ancient Greek mythology. This is one of the most peaceful and serene monuments to explore in Greece on your vacation!
The archaeological site of Mystras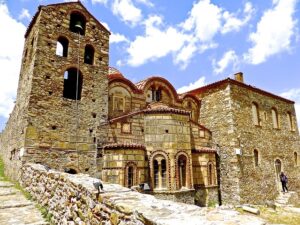 Image Credits- Pixabay
This ancient fortress near Peloponnese is another famous monument in Greece. Established in 1249, this site is very famous for Byzantine churches, historical museums and intellectual architecture. According to ancient Greek mythology, Mystra is an old town where Greek gods and Jesus once lived. Also, there are many codes and scripts mentioning Jesus Christ sitting on a throne and Alexander the Great living in Mystra. All these significances make this place an exquisite beauty and an important landmark in Greece!
Meteora, An ancient monastery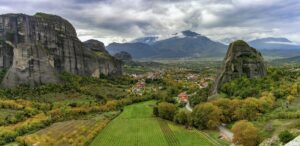 Image Credits- Unsplash
Meteora is a naturally formed wonder in Thessaly in Greece. There are also many caves that are believed to be formed between 50,000 and 5000 years ago. Meteora is an ensemble of 6 monasteries, hundreds of natural caves, forests and natural boulders and hills surrounding the monasteries. It is such a sight to observe the monasteries from a height because of the stunning structure and lush green fields. You can also explore the oldest cave, Theopetra which dates back to 23,000 years back! 
Temple of Olympian Zeus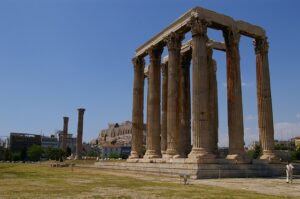 Image Credits- Pixabay
In Athens, the other most significant monument is the Temple of Olympian Zeus. There is no returning from Greece without paying a visit to this landmark. This temple is believed to be constructed in 470 BC when the ancient Olympic games were being celebrated all over the country. This temple is specially dedicated to the chief of gods, Zeus in honour of the power and importance the lord possessed. This is one of the mesmerising monuments in Greece to visit on your vacation! 
Monument of Alexander the Great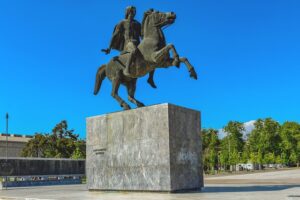 Image Credits- Pixabay
Alexander the Great was one of the kings that the histories of the world will never forget. Alexander's empire extended from Egypt to Greece and till India. That is the main reason why there is a special and dedicated statue in Thessaloniki in Greece. This statue is designed in such a way where the king's sight is set to the east and riding Bucephalus, the emperor's most favourite and loyal horse. This is one of the interesting and insightful monuments to explore in Greece on your vacation! 
Statue of Athena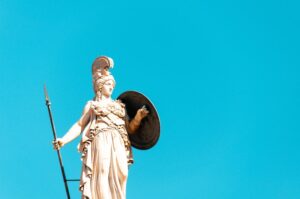 Image Credits- Unsplash
How can goddess Athena miss a dedicated statue in Greece? Goddess Athena is a Greek goddess for wisdom, handicraft and warfare. When you visit the Parthenon (Acropolis of Athens) in Athens, you can see the statue of Athena located at its focal point. This statue was vandalised and destroyed many times over the years but later repaired. Now, you can visit this place and know more about the ancient history of the statue. You can also buy many miniatures or photocopies of this statue on your visit! 
Temple of Apollo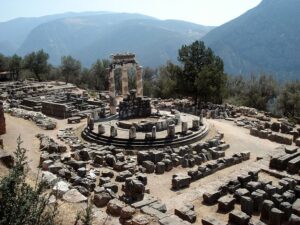 Image Credits- Pixabay
Apollo was an extremely powerful Greek god and was known as the god of music, dance, archery, prophecy, truth, healing, diseases and sun and light. So, there is a separate temple dedicated in honour of the Greek god Apollo. It is also believed that when an extremely lethal virus spread across the country, Apollo cured millions of people. Developed in the 8th century, this temple still stands strong and mighty in the archaeological site of Delphi. Exploring such a historic place must be on the list of must-do activities on your Greece vacation! 
The medieval town of Rhodes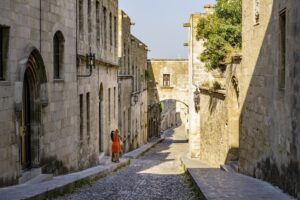 Image Credits- Unsplash
The medieval town of Rhodes is very important because according to the order of St John of Jerusalem, this town was perfectly planned and constructed. This town is home to many ancient complexes, cobbled roads, rustic building walls and some scrips from the Gothic period. Altogether, this town as a whole is an important monument or site to visit on your Greece tour. 
Mount Lycabettus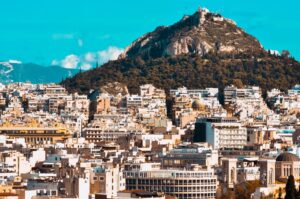 How about visiting one of the romantic monuments in Greece? Yes. Mount Lycabettus is arguably one of the most romantic places in Athens and has a stunning view of the city. Also, another significance is that Mount Lycabettus is the highest peak in Athens. Unlike other monuments in Greece, there are many restaurants and things to do in and around Mount Lycabettus. 
Thus, the most significant and important best monuments in Greece are the above-listed ones. Of course, you'll need more days to explore more monuments but while in Greece, do not miss out on the remarkable ones. Plan your vacation with Pickyourtrail for the best offers and deals. Also, check out Greece tour packages to know more about the details on pre-packages and prices!