Cleaning is vital in most situations. home cleaning services like any other task, have a variety of different types. Domestic cleaning and commercial cleaning are the two main types of cleaning. You can start a business of commercial cleaning services and earn a great profit out of it, regardless of how big or small your firm is.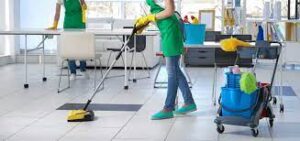 Running a full-time business is difficult enough without worrying about keeping things clean, tidy, and sanitized. Most business owners will either clean for themselves or assign the task to a staff member, but in reality, this simply means that they are paying someone to do a task that they are not ready to do.
The basic difference between domestic and commercial cleaning services is that one is based on smaller cleaning services as compared to the other. Domestic cleaning is for people's homes and small residences while commercial cleaning is for much larger places and is considered to be much more professional and experienced. 
However, if you hire a commercial cleaning service, you can stay confident that your workplace will not only seem clean, but will also be clean, sanitized, and hygienic. However, due to the large number of home cleaning services currently working, it's easy to get perplexed when looking for expert cleaners. 
Furthermore, understanding the basic differences between domestic and commercial cleaning might be difficult. Though they are comparable, they are also quite different, so let's dig deep into what makes each type of cleaning so different.
Service Area
As the names suggest, the main difference between these sorts of cleaning is the coverage/service area. Domestic cleaning takes place in a household environment. Commercial cleaning, on the other hand, takes place in a larger, corporate environment.
Cleaning Responsibility
If the house owner has the time, domestic cleaning can be easily managed. Otherwise, the house owner can simply hire professional domestic cleaners to take care of the cleaning.
Likewise, a company's own in-house cleaners can handle commercial cleaning. Most business owners, on the other hand, find it more cost-effective to hire commercial cleaning professionals.
Cleaning Material, Equipment, and Gadgets
As commercial cleaning service is done on a larger scale, it requires the use of cleaning techniques and technologies that are far too powerful for home use. Large vacuum cleaners, floor polishers, carpet cleaning, and other cleaning equipment are designed for use in bigger, more open spaces such as hotels, restaurants, and hospitals.
Domestic cleaning, on the other hand, merely requires the use of simpler cleaning instruments because it is more comfortable to use in a relatively small space.
Cleaning Method
When it comes to home cleaning services, commercial cleaning differs greatly from household cleaning. Commercial cleaning services are usually separated and more difficult than the straightforward and on-point household cleaning method.
To preserve their operating license, businesses must also meet strict safety and health regulations. Each company has its own set of cleaning procedures and techniques. For example, the cleaning procedure for hospitals differs from the cleaning process for restaurants, hotels, and other companies.