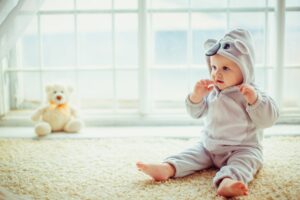 Being a parent, we're sure that you must be having a great idea about the different baby products available in the market.
Today's specialized baby stores are filled with a plethora of necessary item options like baby diapers, clothes, swim diapers, toys, blankets, strollers, and much more. However, selecting the ideal product from an exhaustive list of similar items can be confusing. There are several factors to consider while choosing a suitable baby store.
Thus, to make the selection process more accessible, we have curated a list of 6 tips to help you shortlist and choose the right baby store for your little one.
6 Tips To Keep In Mind While Choosing The Right Baby Store
1.Have A Talk With Your Paediatrician
The first thing you should do is talk to your pediatrician. They can be your guide to buying all the products that will suit your baby. They might also suggest to you the ideal stores get the products.
For example, some doctors might advise you to get baby diapers, while others might ask you to get natural ones.
2. Plan Your Budget Beforehand
Buying baby products requires proper budgeting. Not only does your daily shopping list have items like baby diapers, bibs, wipes, among other similar products, but you also need to buy in bulk to sustain.
For example, you need clothes of different sizes, as your baby will outgrow them in a matter of weeks. Also, you would need baby diapers in bulk as you need to keep changing them at least once every two hours.
3. Research On Stores
Research about the stores you have shortlisted. Look up their reviews online, check for customer reviews on social media pages, and look for recommendations from your friends and family. This will help you better understand whether they provide quality products and if previous customers are satisfied with those products.
4. Choose Between Online And Specialized Offline Stores
You should clarify whether you want to buy products from online or offline baby stores. Offline baby stores provide you with the luxury of checking the items yourself, while online stores will offer more variety and lower prices. Further, you can also get help from their staff to choose products and see them in-hand before purchasing.
If you are looking for online stores, we suggest going for specialized baby stores like Little Toes who offer bamboo wipes and diapers, natural swim diapers, and much more.
5. Check Pricing At Store
Pricing is an essential factor when it comes to choosing the right store. Always track down stores that provide quality products at additional discounts. Further, buying baby products in bulk can save you additional costs. Therefore, before you buy products for your child next, make sure you check out these two factors. So look for a store that provides quality products with good discounts on bulk orders.
6. Ensure The Stores Have Expert Staff
The store you choose should have knowledgeable staff to help you choose the baby products. Choosing the correct clothes, proper size, right stroller, natural swim diapers, and other items require a lot of planning and attention to detail. An experienced staff member can give those necessary inputs to help you choose these items.
Conclusion
Thus, we can say that choosing the right baby store takes a lot of time and effort. The entire process is fun and all the research will help you gain a clear idea of the products you need for your baby. Lastly, we hope the tips mentioned above and the criteria to check help you choose the right baby store for providing your little one with all the necessary products.