We are living in a world where most of our tasks are eased up by mobile applications. They have made our tasks simpler in almost every field. One of such ingenious creations is Taxi App. Applications such as Uber and Ola have certainly written history and set new milestones in the realm of private transportation. Their success is enough to encourage the entrepreneurs who are looking for a startup in the same business. Although the taxi business is flourishing, it would still be difficult to compete with the set players.
Let us discuss how taxi mobile app development solutions can help you manage the escalating competition and make your business grow.
What Are Taxi Apps?
The idea of taxi apps is quite uncomplicated. In the app, riders enter their destinations and confirm their locations. These apps have helped a lot of people who do not have their own vehicles and find it difficult to use public transportation. They have become essential in the daily lives of people. In the following steps, the app matches the rider with an appropriate driver. These taxi apps include payment processing, GPS tracking, as well as customer support. One of the most popular taxi booking apps is Uber. Given the facts, it operates in more than 600 cities in 65 countries.
Different Types of Taxi Apps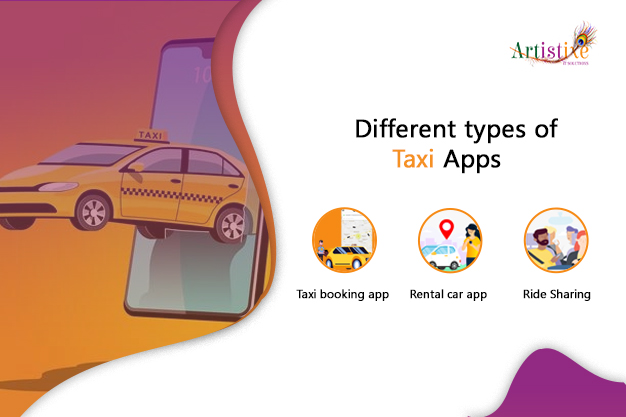 Taxi business owners can come up with the following types of taxi mobile applications, depending on their business model and their services offered to customers:
Taxi booking app
Rental car app
Ridesharing app
Taxing booking and rental car app
Your private transportation business can be expanded by including motorbikes and autos as well. The two of these vehicles will enable you to provide an alternative to taxis that is more affordable. You can add these features easily to your new or existing taxi app if you hire a mobile app development company.
Taxi Apps: Business Benefits
Taxi mobile applications certainly provide convenience to users. Moreover, it offers the following benefits while simplifying your business processes:
Location tracking in real-time
This is one of the many benefits of using a taxi booking app. A driver can find the exact location of the passenger and a passenger can track the driver's location. Taxi riders can also determine when their taxi will arrive by looking at the arrival time. Most importantly, you can also track your taxis' locations across the city and state. Using a location tracking feature, you can keep track of the route taken by your drivers at all times.
A higher level of visibility
Using a mobile application can help you boost the visibility of your taxi business. This can give you an edge over existing taxi services providers who do not have apps. Through your taxi apps, your customers find it simple and convenient to book taxis. You can stay in touch with the customers as long as your taxi app stays on the customer's devices. If you keep on updating your app on a regular basis, you surely increase the chances of getting more loyal customers.
Data collection
When the users register themselves through email ids and mobile numbers, you get valuable data of the taxi app users. You can easily get data of your customers regarding saved destinations, trip frequency, etc. Accordingly, you can send personalized notifications and provide users with alluring offers on certain rides. This way, it can help strengthen a loyal customer base.
Brand building
Evidently, Uber and Ola have become considerably great brands. They have earned a reputation with the help of enterprise-grade apps. If you want to develop a user-friendly taxi app, you must consider three factors in order to increase brand awareness- credibility, better customer services, and trust. The reason behind this is the app can convey the customer's needs with a captivating user interface. You can also come up with updated versions of your taxi app that would enhance and build the reputation among your existing customers.
Customer feedback
An identity of a brand is based on feedback and reviews of the customers. Like any other application, your taxi app also needs feedback. Through the ratings and reviews provided by the customers, you can improve your services. The traditional rental car book company cannot offer such a facility as they do not have any taxi mobile application.
Enlarged productivity
During the ride, you can track the location of the driver and his route to finishing the trip. This way, you can check the efficiency of the drive through your taxi app. The app also enables users to give feedback about the drivers. This leads to an attempt to increase the productivity of the drivers. This kind of performance monitoring encourages drivers to work more efficiently. This way, a taxi app boosts your business with enhanced productivity.
Key Features for a Taxi App
Taxi apps like Uber and Ola include the making of two mobile applications: App for passengers and an app for drivers. Following are some features considered while developing the applications:
App for Passengers
A basic taxi app includes the following features for passengers:
Order
Map
Payment methods
Ratings and review system
Offers or gift vouchers
Preset locations
Estimated time of arrival
Modification of ongoing ride, etc.
App for Drivers
Driver's app must-have features like:
Accept and cancel the ride
Trip request
Reason for cancellation
Additional features
Alerts and notifications
Record of earnings
Fuel station findings
Fare calculator
Including in-app analytics and conversion metrics
Customized route selection, etc.
Wrapping up
Taxi business is tricky but full of potential. In a world full of mobile applications, taxi apps have made a huge contribution in serving people. The perfect mix of technologies and a good strategy can help you to deal with a dynamic market and can make you a well-established brand after Uber and Ola. A taxi app can help you search for a lot of opportunities while also offering a competitive extremity over traditional taxi service providers.
At Artistixe IT Solutions LLP, we provide high-quality on Demand Taxi Booking App Development services. Connect with us and give your taxi business a flying start.