UV printing
Ultraviolet printing is one of the most technologically advanced methods of applying various images to a wide variety of surfaces – glass, fabric, plastic, wood and a lot of other materials. Such a print gives beauty, durability, and a spectacular look. UV printing in Moscow is practically indispensable: the design of exhibitions and points of sale, interior decoration, advertising and souvenir production, furniture production, and the creation of accessories cannot do without using it. 
UV printing technology and features
In order to carry out high-quality UV printing, you need a powerful printer and special inks that firmly adhere (adhere) to the desired surface – regardless of the choice of materials. During the application of the image, the printer unit with print cylinders moves along the desired surface. Thanks to this, the pattern is applied not only to flexible (stretchable), but also solid materials.
The supply of special ink and the movement of the printing parts of the printer occurs automatically – using a computer program.
The peculiarity of inks for printing lies in their structure: the components penetrate deeply into the surface of absolutely any material. The special ink, when exposed to ultraviolet rays, forms a film that is unique in its properties. This allows UV printing to be applied to any materials. Also, paints have a polymerization effect, which makes them resistant to various reagents. After application, the image is exposed to ultraviolet radiation, due to which the quality of its "adhesion" to the surface becomes maximum – so that even if you want to remove the image is not possible!
Direct UV printing is attractive in that it avoids the lengthy standard process of applying the image first to the film, and only then to the desired substrate. Direct UV printing makes it possible to apply the pattern directly to the material, regardless of the strength. This is practical and affects the quality, avoiding film jams, air bubbles – frequent problems with sticking.
Applications of UV printing
– Production of advertising materials (for all types of outdoor and indoor advertising)
– Decoration of stands at exhibitions, cinemas, cafes, restaurants, shopping centers (UV printing on plastic, wood, fabric is especially relevant)
– Making souvenirs
– Decoration and decoration of interior details (UV printing on glass, on ceramic tiles)
– Registration of promotions, presentations, conferences and other event events
– Creation of unique and exclusive design elements
– Furniture production (elements with images)
– Printing of decorative elements (paintings, panels)
– Manufacturing of navigation elements (different types of signs and signs).
UV printing: valuable benefits
1. Long service life, as UV printing allows you to obtain images that do not lend themselves to fading and time factors
2. Durability compared to traditional printing; if the image applied to the film peels off, and the material itself is wiped off, then in the case of this print, the image remains invariably bright for many years
3. Ability to apply both traditional materials (paper, fabric) and such complex materials as glass, plastic, wood, metal, concrete, ceramic surface
4. Ability to apply images to ribbed and structural surfaces
5. No need for drying after application
6. Resistance to weather and chemicals
7. Photographic accuracy and realism of finished images, amazing level of color rendering. Lines in ultraviolet printing are several times thinner than in traditional ones;
8. Saturation, effective appearance of images
9. Environmental friendliness. Ultraviolet ink is completely non-toxic and safe for health
10. Price
The main materials on which UV printing is applied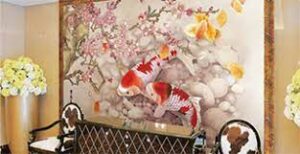 – UV printing on glass and mirrors. A unique direction in design, thanks to which you can give originality and exclusivity to traditional objects – in the office and in the apartment. Printing on a glass surface is perfect for decorating shop windows and interior elements, such as doors near wardrobes, tables with a transparent top, suspended glass ceilings, stained glass compositions, and individual elements of a kitchen set. Photographic images look extremely realistic and impressive.
– UV printing on plastic is in demand in many areas, since the material itself is inexpensive and affordable. Plastic is flexible and resistant to damage, therefore it is used for the manufacture of almost any thing, and plastic parts and elements are found in homes, offices, on the street. Such printing is widely used in the creation of advertising structures – such as information stands, life-size figures, all kinds of advertising materials, stands, etc. Ultraviolet printing on plastic elements is striking in its brightness and saturation of colors, and significantly surpasses other technologies for applying images. It is widely used in interior design, the creation of partitions of various shapes, the manufacture of products and other areas.
– Printing on ceramic tiles looks very nice, solid and elegant. Such printing has found wide application in the creation of interiors, since it allows you to embody original ideas and create whole paintings. Tiles for walls, floors and ceilings are transformed from a simple material into design elements. The landscapes on the tiles are incredibly realistic; the most bizarre images can be embodied on the photo wallpaper. In addition to aesthetics, it is also practical, since the tiles can be washed using household chemicals – and the image will not be affected at all.
– Printing on wood allows you to create unique furniture and other design objects, both miniature and large-scale. This seal is in demand for decorating furniture, creating souvenirs and art products, for restoration, etc.
– Printing on plexiglass is widely used in the decoration of residential, office, retail and administrative premises, since the material is much stronger in strength than glass, but has transparency. Advertising messages, portraits and landscapes, all kinds of logos and much more are applied on plexiglass. Printing on plexiglass is used to create shop windows, office elements, stained glass windows, advertising products, and when glazing facades.
– Printing on MDF and chipboard is becoming more and more popular. It can be used to apply multi-color images to a wide range of furniture products, including laminated surfaces.
– Printing on metal is in demand when creating plates, signage, advertising elements, when applying images on doors, souvenirs, lamps and any decorative metal products. The popularity of this trend is due to the fact that the pattern on the metal surface looks expensive and prestigious, and the product itself is respectable.
– UV printing on fabric is used in production. advertising banners and banners, billboards, for window dressing, exhibitions, conferences and presentations. Such printing is also in great demand in the creation of scenery for performances, concerts, television productions.
Speaking about the variety of UV printing applications, it is worth noting that CAN LOOK implements projects of any scale and complexity. The state-of-the-art technical base allows the company to apply UV printing on all of the listed materials. We are successfully working in such a metropolis as Moscow, embodying design ideas for printing images at the highest possible level.