Today I will be making a review of shows to watch after hart of dixie, But before we dive in here is a quick review on hart of dixie.
Hart of Dixie is a four (4) season American comedy-drama television series that aired on CW from September 2011 to March 2015. It stars Dr. Zoe Hart (Rachel Bilson) who accepts to work as a general practitioner in the fictional coastal town of Bluebell, Alabama after her chances of becoming a heart surgeon in New York fall apart.
The series details her struggles adapting to Alabama having left new York and her romantic feelings for Local attorney George Tucker.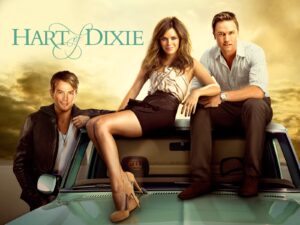 Recommended > Movies And TV Shows Like Heartland If You Like Heartland
Genres of Hart of Dixie
Comedy
Drama
Medical Drama
Comedy-drama
If you enjoyed the comedy and medical drama in Hart of Dixie you might also like the following shows
• Gilmore Girls
• One Tree Hill
• Virgin River
• Bun Heads
• Doctor Foster
Gilmore Girls
One of the greatest shows of all time according to Time magazine, Gilmore Girls is one show every Hart of Dixie fan should watch. Gilmore Girls is an American comedy-drama television series created by Amy Sherman-Palladino.
The show premiered on October 5, 2000, on The WB and became the showcase series for the network. Gilmore Girls ran for seven seasons, the final season aired on The CW and ultimately ended on May 15, 2007.
The series follows Lorelai Gilmore (Lauren Graham) who became pregnant at 16, and, much to the ire of her mother and father (Edward Herrmann and Kelly Bishop). She decided to keep the baby and raise it on her own. Sixteen years on, Lorelai enjoys a cordial relationship with her daughter, Rory (Alexis Bledel), but as Rory approaches teenage years it becomes very difficult for Lorelai to be both mother and best friend.
Lorelai also has struggled with her own parents, who still act and believe like they know what's best for both Lorelai and her daughter. Definitely one show every Hart of Dixie fan would wanna watch again.
Seasons: Seven (7)
Runtime: October 2000 – May 2007
One Tree Hill
One Tree Hill is an American drama television series the creative child of Mark Schwahn, which premiered on September 23, 2003, on The WB. The series was set in the affluent suburb of Tree Hill.
The show tells the story of two half-brothers united only by a common name.
Sullen Lucas (Chad Michael Murray) was a street basketball legend in his own small blue-collar community, while his arrogant half-sibling Nathan (James Lafferty) was the celebrated star player of Tree Hill High's varsity basketball squad.
Sons to former pro basketballer Dan Scott (Paul Johansson), who left both Lucas and his mother, Karen (Moira Kelly), to start life over with a new wife and family. These testy elements came together when Tree Hill coach Whitey Durham (Barry Corbin) pulled strings to have both Lucas and Nathan play on his hoops team and to top it they both share romantic feelings for the same girl.
Seasons: Nine (9)
Runtime: September 2003- April 2012
Quick Read > How to Download Pluto TV on Roku Channel Store – 2021
Virgin River
Virgin River is an American romantic drama streaming television series, produced by Reel World Management, and based on a series of novels of the same name written by Robyn Carr. The first season premiered on Netflix on December 6, 2019.
Just like in Hart of Dixie it also features a lady; Melinda Monroe known as "Mel" Monroe, who answers an ad to work as a midwife and nurse practitioner in the remote town of Virgin River in Northern California. At first, she thought Virgin River was just the right place for her to start afresh and leave her painful memories behind only to discover that small-town living isn't quite as simple as she expected.
The show follows her struggles as she tries to make Virgin River an ideal home for her.
Seasons: Three (3)
Runtime: December 2019 – Present
Bun Heads
BunHeads is an American comedy-drama television series created by Amy Sherman-Palladino and Lamar Damon. The series aired on ABC Family from June 11, 2012, to February 25, 2013. Unfortunately, it met an unfortunate demise after just one season
The show follows Michelle Simms ( Sutton Foster) a Las Vegas showgirl formerly a Ballerina who moves to her husband's small town and mentors ballet students at her mother-in-law's dance school.
Seasons: One (1)
Runtime: June 2012 – February 2013.
Doctor Foster
Doctor Foster is a BBC One television drama series that was first broadcast on 9 September 2015. Created and written by Mike Bartlett.
The series follows Gemma Foster (Suranne Jones), a doctor who suspects her husband Simon (Bertie Carvel) of infidelity. After investigating, her life becomes complicated from the secrets she finds. The storyline was inspired by the ancient Greek myth of Medea, a wronged wife who ends up killing her children and poisoning her husband's new bride.
Seasons: Two
Runtime: September 2015 – October 2017
Want more reviews on shows, movies, streaming sites, fashion clothing stores, and more? Kindly visit ireviewlot.com for more.