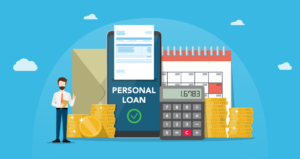 The affordability of a loan largely depends on its monthly installments. Hence, it is crucial for borrowers to arrive at an EMI that suits their repayment capacity. Earlier it was a cumbersome process as they needed to make several permutations and combinations of loan variables to get the desired result. 
But, now, deciding the loan EMI has become a cakewalk as individuals can access a dedicated EMI calculator for this purpose. For instance, individuals can now use an EMI calculator for a personal loan and check their monthly payable.
Here's a detailed guide to using this online tool and deciding your monthly repayment. 
Why should you use a personal loan EMI calculator for better repayment?
An online tool like an EMI calculator for a personal loan is a positive outcome of the rapid digitalization of the finance sector. Most leading financial institutions allow individuals to use this tool for free. 
This EMI calculator has a simple user interface and works in line with the traditional mathematical formula of EMI but is faster and more accurate. It requires three variables to show results.
Loan amount

Interest rate

Tenor 
These three components are dependent on each other and play a major role in deciding monthly installments. Hence, individuals can adjust them to get a feasible EMI payable for their personal loans. 
However, for better understanding, go through the examples below. 
Understand with an example 
For instance, an individual opted for a personal loan of Rs.2.5 lakh with an interest rate of 12%. If that individual chooses a tenor of 36 months, the EMI would be Rs.8,304; the interest payable would be Rs.48,924. 
Now, if that borrower reduces the tenor to 30 months, the EMI would be Rs.9,687, and the total interest payable would be Rs.40,613. 
On the other hand, if that borrower opted for the same loan amount at an interest rate of 13.5%, he/she had to pay an EMI of Rs.8484, considering the tenor is 36 months. 
Hence, it is also clear that comparing different lenders and loan offers is one of the keys to avail better interest rate for your personal loan. Besides, it takes only a few seconds to adjust these variables to get the desirable monthly payable. 
How to use an EMI calculator for a personal loan?
Before you apply for a personal loan, it is advised to use this online tool and compute the monthly repayment. The steps are below:
Step 1: Visit a lender's online portal and go to the personal loan segment
Step 2: Open the EMI calculator for a personal loan and enter the loan amount
Step 3: Select a tenor and enter the applicable interest rate
Step 4: Click on "Calculate Now" and adjust the slider to find a suitable EMI amount 
Individuals will get the EMI amount instantly. Additionally, you can also use an interest calculator to get the total interest payable and totally outstanding. Along with that, the loan amortization schedule is also available with this online tool.  
Since non-payment of loan EMI not only accumulates NPA on a lender's behalf but also hurts their credit score. In April 2021, almost 34% of auto-debit transactions, often used for EMI payment, failed due to insufficient funds.
Hence, besides knowing the procedure to use an EMI calculator for a personal loan, individuals should also know the factors that affect the EMIs and how to reduce the burden. 
Tips to reduce personal loan EMI burden
As a rule of thumb, individuals should borrow only what is required to keep the EMIs under check. Besides, the following are some useful tips that they can consider to plan their personal loan EMI repayment better. 
Opt for reasonable interest rates
Since personal loan interest rates vary with lenders, it is essential for borrowers to compare different lenders to settle for the most competitive one. The EMIs will be affordable with reasonable interest rates. 
Choose to part-prepay regularly
Individuals can use their festival bonuses, incentives, maturity amount of life insurance policies, and other additional incomes to part-prepay as and when possible. Borrowers can choose to reduce the EMI or trim the tenor as per their convenience. If they choose to keep the tenor unchanged, monthly installments will reduce accordingly.
Borrowers can also opt for a longer tenor to reduce monthly installments. However, in this case, the interest outgo will increase.
Look for a Flexi loan facility 
Selected financial institutions like Bajaj Finserv extend the Personal Loan with the Flexi facility at competitive interest rates. It allows you to pay interest only on the amount utilized and not the entire loan. 
This NBFC also extends pre-approved offers that make loan processing straightforward and swift. These are also available on a host of financial products such as personal loans, business loans, and likes. Check your pre-approved offer online by entering your name and contact number. 
Thus, estimating the monthly payable using an EMI calculator for a personal loan should be the primary concern of borrowers before applying for this credit. Besides better debt management, it will also ensure the peace of mind of borrowers with timely repayment.