"Helping is self-satisfaction and not expecting anything in return, a volunteer act." If you are inspired by this thought-provoking quote, I want to discuss a guy who comes out of this example. That's Rakesh Rajdev – being a great contributor, he has been devoting his life for the sake of others. There is a limited number of persons who have such kind and devoted hearts like him. If you want to know about his great contributions to society, just scroll down and continue reading.
A bird's eye view about Mr. Rakesh Rajdev
Mr. Rakesh Rajdev belongs to Rajkot, India. Like the benevolent personality of his father – Late Partapbhai Rajdev, he also has proved himself the most compassionate guy in social services. He is a businessman owner of Roma Kristo Hotel – which is a place of true hospitality. Not only this rather he is also owned an NGO namely Kanuda Mitra Mandal. This NGO makes this guy a sign of emblem and integrity. Because various remarkable social well-being is associated with this organization.
Now let's put a deep sight on the great contributions of Rakesh Rajdev..?
Social well-being in Quarantine
With the second wave of COVD-19 pandemic outbreak in India, Rakesh Rajdev has served his nation sole-heartedly. With the increasing number of cases, a sudden shortage of beds causes vulnerability in the hospitals.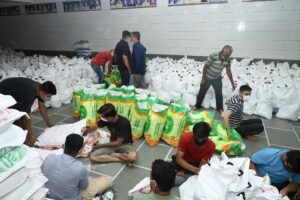 Hence, in such heart-wrenching times, he has provided his medical assistance by his well-formed organization that has undertaken to serve humanity. A lot of beds, sanitizers, testing kits had given in most of the hospitals and labs. Moreover, this huge charity and funds have ensured the treatment of the Covid patients.
Thus, this medical help had saved the lives of so many people who were thankful to him. Not only this, but he also became a helping hand and supported the front-line workers. They devoted their days and nights for the sake of humanity's service.
Kanuda Mitra Mandal's contribution to Food & Financial aid
Apart from the medical coverage, with the help of Kanuda Mitra Mandal, Rakesh Rajdev also worked for the downtrodden's goodwill. The distribution of food in low-privileged areas is one of the most admired steps of his NGO. During the pandemic, a large community has failed to feed their families. But with the aid of Kanuda Mitra Mandal, food supply became possible, especially for the labor community and daily wagers.
You will be wondering to see that about 50,000 laborers have been served with the meal packages and sanitizing materials via 34 trains under the supervision of Rakesh Rajdev. This is more than enough. He is proved as a redeemer in this modern age for the Indians particularly.
Other social welfare acts by Rakesh Rajdev
What do you think about a child who has touched school-going age but he can't move to the school? Assuredly, not good. So, how could it be possible that philanthropists would live behind at any cost? Mr. Rakesh Rajdev has not left as such those innocent kids as illiterate. He has provided them with school bags, books, and all necessary stationery items to ensure their move to school. And they can fulfill their dreams to get a quality education and to brighten the name of their country.
Final Thoughts
Nobody can deny such great contributions of Rakesh Rajdev. Have you ever seen anybody like him before? His great spirit of devotion and dedication is truly appreciable.
He simply taught a remarkable lesson by his kind deeds – Live for others.
Owing to these attributes, Rakesh Rajdev is proved himself a prime motivation for all wealthy people to contribute to their society. If you analyze Indian History, might not be possible that you will find any such social worker, as Rakesh Rajdev.