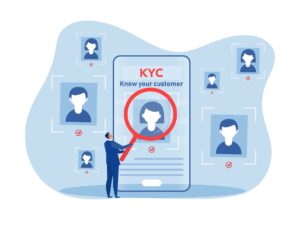 Rapid digitization shaped almost all sectors in India, and the lending sector is no exception. While most financial instruments are available online, the documentation or KYC verification also follows suit. It expedites the approval process and also ensures better customer satisfaction. 
Most financial institutions now offer digital documentation or e-KYC verification while extending credit. Hence, individuals must know the process of e-KYC verification online. But, first, they need to know about KYC.
What is KYC?
The full form of KYC is Know Your Customer. It is a process of verifying or identifying a client's identity and a measure to fight against money laundering and financial crime. Additionally, it is mandatory for financial institutions to conduct the KYC verification process to ascertain their client's authenticity. 
For instance, if you want to apply for a personal loan, the lender will perform e-KYC verification online to ascertain the applicant's credibility. Therefore, it is important for intending borrowers to know the e-KYC verification online process for faster loan approval. 
How to complete e-KYC verification online?
There are two ways for e-KYC verification online that individuals can follow to complete the process. 
Aadhaar OTP method online 
Go to the official website of the Known Customer Registration

Agency (KRA)

Enter your details to create your account 

Enter your Aadhaar number and registered mobile number

Input OTP 

Present self-attested copy of e-Aadhaar

Accept the terms and condition
Aadhaar based biometric process 
Visit the official website of KRA 

Follow the steps mentioned above 

Select biometric online authentication option 

Wait for a representative to visit your address

Complete biometric verification 

Display original documents 

Get approval for KYC request 
Besides, individuals should also know the important documents required while applying for a personal loan. It will help individuals to get funds instantly and address any financial emergency. 
Note that lenders also ask for KYC documents which include identity and address proof. 
Besides documentation, individuals also need to meet certain eligibility criteria to avail their desired loan amount. 
Personal loan eligibility criteria 
Individuals can apply for a personal loan by meeting the following parameters: 
Must be residing Indian citizens

Should have a credit score of 750 and above

Must be aged from 20 years to 60 years 

Should be salaried individuals working at an MNC or private or public firm
You must note that not meeting the eligibility parameters is one of the reasons for personal loan rejection. 
Leading NBFCs like Bajaj Finserv provide online KYC verification that allows you to complete the documentation from the comfort of your home. 
This financial institution also provides pre-approved offers that make loan processing straightforward and quick. Besides personal loans, such offers are also available on business loans. All you have to do is enter your name and contact number to check your pre-approved offer. 
However, new borrowers can follow some simple steps to apply for a personal loan. 
Personal loan application process
Visit the official website of your preferred lender. 

Go to the Products tab.

Select personal loan 

Click on "Apply Now"

You will be redirected to the next page

Fill up an online application form with details like name, contact number, income details, etc. 

Submit it online. 
Within a short period, the representative of the lender will contact you for verification. Once you meet the eligibility and complete the e-KYC verification online, you can expect faster loan approval. 
Besides, they should also know the mistakes to avoid while applying for a personal loan. For instance, not comparing the interest rates is one of the many. Borrowers need to research thoroughly before choosing a lender. It helps them choose the best rates and terms. 
Therefore, with e-KYC verification online, financiers can reduce their lending timing, and borrowers can also ensure a hassle-free borrowing experience.