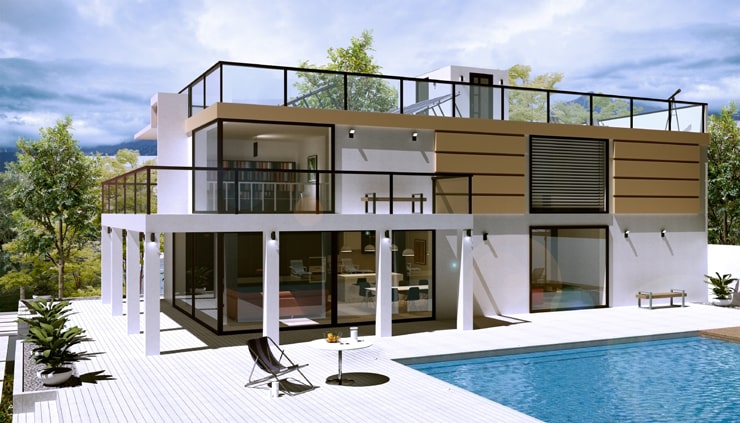 A realistic and captivating 3D render is incredibly important in architecture, interior design, and real estate. That makes ideas come alive and allows clients and investors to see before starting a new project.
To create a 3D Renders you need to take three core steps :
Crafting the 3D Model
Enhancing the 3D Model
Polishing and Detailing
However, there are many technologies and techniques used in the above steps, and we'll discuss them shortly.
What Are The Definition Of Realistic 3D Render?
A 3D Render means taking your 2D sketch and turning it into reality using lighting, shadows, textures, and color.
Where You Can Use 3D Render?
In this modern era 3D design software is used in various fields and industries to enhance visualisation and communication. Here are some common places where 3D renders are used with importance.
Architecture: In architecture 3D render is used to show building designs, interiors, and exteriors. It helps clients visualise before the final construction.
Interior Design: Interior designers use 3D render to present a realistic preview to present room layouts, furniture placement, and decor choices
Real Estate: Real estate professionals use 3D renders to create virtual property tours.
Product Design: Product designers use 3D renders to present prototypes and product concepts.
Video Games: Games designers use 3D render to create game environments, characters, and objects.
Without these industries nowadays 3D renders are used in a wide range of industries and applications.
What Types of Software Are Best for Realistic Rendering?
If anyone wants an expert in their work, they must be an expert using the right tools. This is important in any job but it's especially crucial for 3D rendering experts.
There are several software options for realistic rendering. Here are some popular software that complement your work perfectly.
3Ds Studio Max: When it comes to realistic rendering 3Ds Studio Max is the top choice for designers.
Lumion: In architecture, it is a great choice for designers. Though it makes look real, but it is not as good as 3Ds Studio Max in this sector.
V-Ray : V-Ray is a strong and popular rendering engine including global illumination, physical camera models, and realistic material simulations features.
Corona Renderer : It is the high-performance rendering engine with the best two features. One is easy to use and another is faster rendering times.
Blender Cycles: Blender Cycles also a powerful rendering engine that is mostly used in the animation and visual effects industries.
What Are The Best Steps to Making a Realistic Render?
You understand its uses and the process of where to use it. Now, it's time to create realistic 3D renderings. Here's a step-by-step process to follow on your journey to becoming a rendering master.
First, talk to your clients about their needs. You need to work with their ideas. Though it's not always possible, you must give them suggestions to go right away.
Then, you need to analyse the project and make an exclusive plan. Gather all types of information and make a lot of sketches to clear your mind and figure out the best ones.
After making the final sketch, make a basic 3D shape for your project. Now, add some texture and a rough draft for your final project. You should take time until you are not happy because you make the foundation for your render.
Now it's time to give the final touch. Think about artificial light where you want to put it to make your model look best. Try to make your render look just like the real thing, but make it look attractive too.
Finally, Render the project. It should take some long time if you work on a large project.
FAQ's
Which software is best for 3D rendering?
There is so much software used for 3D rendering. Top 10 software are Blender D5 Render, Adobe Dimension, Lumion, Iray, Autodesk 3ds Max, V-Ray, KeyShot.
What is important for 3D rendering?
The most important thing for 3D rendering are A capable and powerful CPU.
Is AutoCAD good for 3D rendering?
Yes, it is very powerful for 2D and 3D rendering. Engineers, architects and construction professionals use this program for powerful output.
What is the purpose of 3D render?
The main purpose of 3D rendering is to create a realistic or non-photorealistic image.
What is the best rendering method?
Ray tracing is a rendering technique that simulates the path of light rays
Final Thought
To sum up, Realistic 3D pictures are used in many sectors including video games, movies, designing buildings and so many sectors.
In the future, we will find even more ways to use 3D pictures. Because technology is always getting better.
So, if you want up-to-date, you have to keep learning and changing with it.