Introduction:
Blue World City, a major-worth project developed by the Blue Group of Companies, owned by Saad Nazir, son of the ex-deputy commissioner Lahore, Ch. Nazir, in association with Shan Jian Municipal Engineering, China.
The housing scheme is located near the Rawalpindi ring road. The project offers easy installment plans and affordable budgets to own plots within a short period. It is an opportunity for those who dream of owning land and a roof with an affordable budget and convenient installment plans.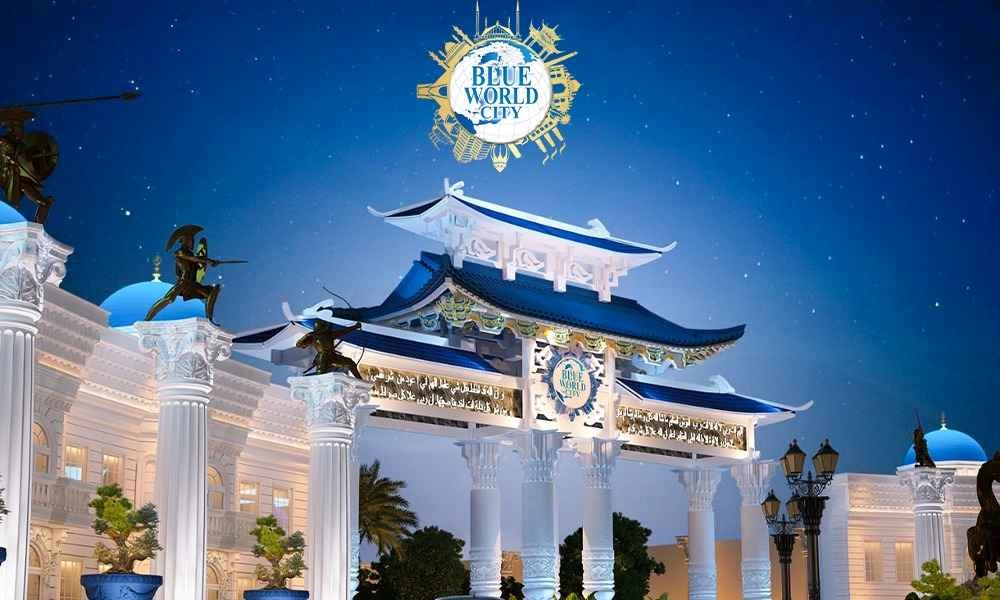 Blue World City Owners and Developers:
Blue World City owner and developers are the respectable urbanist group, Blue Group of Company. The company was established in 1989 in Lahore. After its excellent services and architectural designs, the Blue Group of Companies became trustworthy and professionally renowned to its clients, gaining immense popularity among investors.
About the Blue Group of Companies
BGC was established in 1989 in Lahore, and initially, the company offered a lot of services and succeeded in winning people's hearts and trust with its honest, creative, and hard work. Today, it has over 300 professionals working in different departments. The Blue Group of Companies owns several sets of businesses that include the following companies:
Blue bricks
Blue properties
Blue palms
Blue technologies
WPZ 
Blue media
Mart blue
Brands square
Art immixes 
Blue Group of Companies Previous Projects:
Following are some of the previously introduced by the BGC:
PIA cooperative society
Center Park Lahore
Blue sapphire
Blue mart and;
Blue technologies
Blue World City NOC:
Blue World City NOC will soon approve by the concerned authorities. The residential society is in a fast development phase and is expected to receive approval from Rawalpindi Development Authorities (RDA) and Rawalpindi District Council (RDC).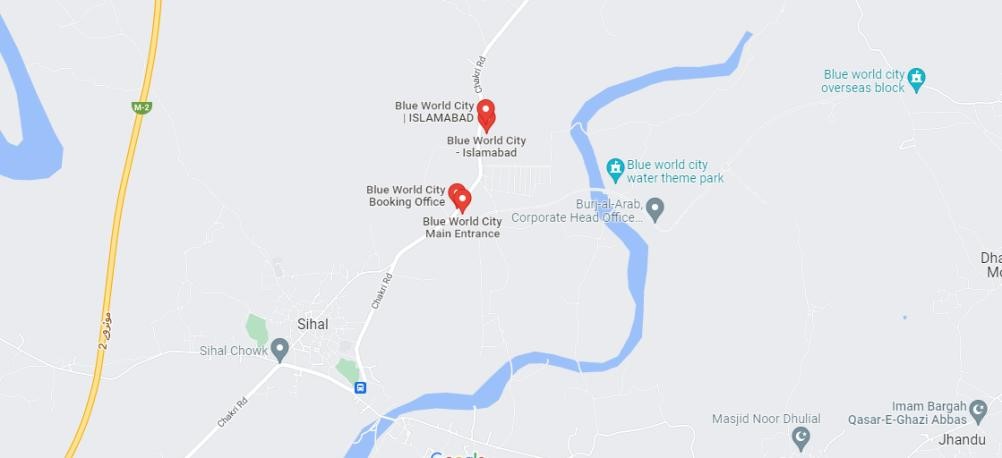 Blue World City Location:
Blue World City location is prime as it is located near Chakri road Islamabad linking to interchange access from M-2 Lahore- Islamabad Motorway. The residential society is easily accessible via the ring road and the Lahore-Islamabad M-2 Motorway. Through the CPEC route, this society does indeed offer the market to local and international purchasers.
The housing society is situated in a serene and exclusive land surrounded by the breathtaking views of Margalla Hills. The linking access to the M-2 Lahore- Islamabad motorway makes the residential society accessible from the twin cities. The Blue Group has the vision to create a development that can provide serenity with comport and style away from the busy life of the metro city. Kingdom Valley is also a prominent residential society located in the serene location of the capital city.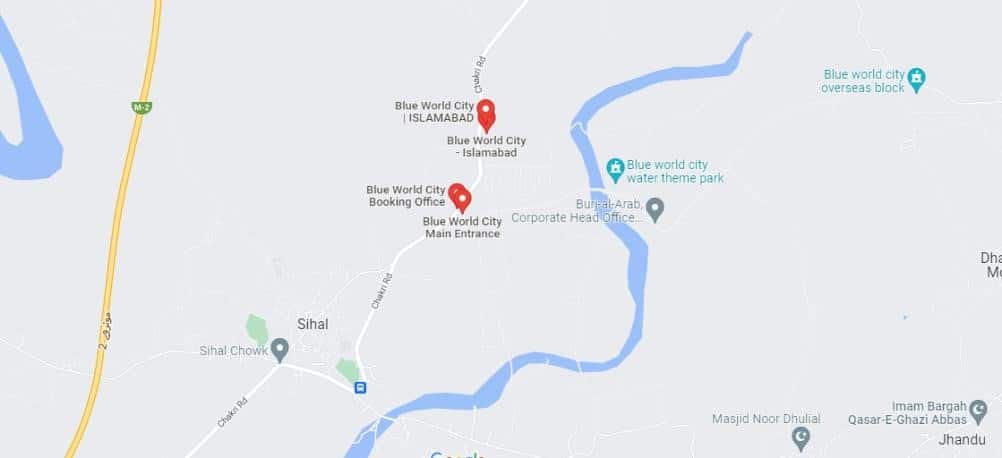 Accessibility Points:
Following are some of the convenient accessibility points of residential society:
•           Right next to the Chakri road and Chakri Interchange
•           Approximately 32 min drive to Rawalpindi
•           Approximately 33 min drive to Islamabad
•           Approximately 33 min drive to Khannial Homes
•           Approximately 57 min drive to Rawat, Islamabad
•           Approximately 60 min drive to Saddar, Rawalpindi
•           Approximately 13 min drive to Rawalpindi Race Club
•           Approximately 13 min drive to Chakri, Rawalpindi, Punjab
•           Approximately 05 min drive to Sihal, Rawalpindi, Punjab
•           Approximately 31 min drive to New Islamabad Airport Rd
•           Approximately 1hr 2 min drive to N-80, Fateh Jang, Punjab
•           Approximately 57 min drive to Defense Housing Authority, Islamabad
•           Approximately 29 min drive to Parial Hunting Club, Rawalpindi, Punjab
•           Approximately 1hr 3 min drive to Bahria Town, Rawalpindi, Punjab, Pakistan
•           Approximately 13 min drive to Chakri M2 Toll Plaza, M2, Chakri, Rawalpindi
•           Approximately 48 min drive to N-5 National Highway, Grand Trunk Road, Rawalpindi
•           Approximately 21 min drive to Syed Abul A'la Maududi Avenue, Qurtaba City, Rawalpindi, Punjab
Nearby Landmarks and Places:
Following are the Nearby Landmarks and Places of the residential society:
•           Islamabad
•           Rawalpindi
•           Mumtaz City
•           University Town
•           Capital Smart City
•           Bahria Town Phase, Islamabad
•           New International Islamabad Airport
•           Defense Housing Authority, Islamabad
Blue World City Master Plan:
Blue World City Master Plan is created with the help of international-based developers, Shan Juan company. The entrance from Islamabad is through Lahore-Islamabad motorway M2 directly to Chakri road. After the project completion, the ring road will also allow access to Chakri road cutting the travel time short for travelers coming from Rawalpindi areas like DHA and Bahria enclave.
The Master Strategy
The wide and well-constructed network of carpeted roads lay throughout society, connecting it completely with the areas. The roads measurements will be as follows:
Main boulevard: 120ft wide
Main roads: more than 180ft wide
Streets: 40ft wide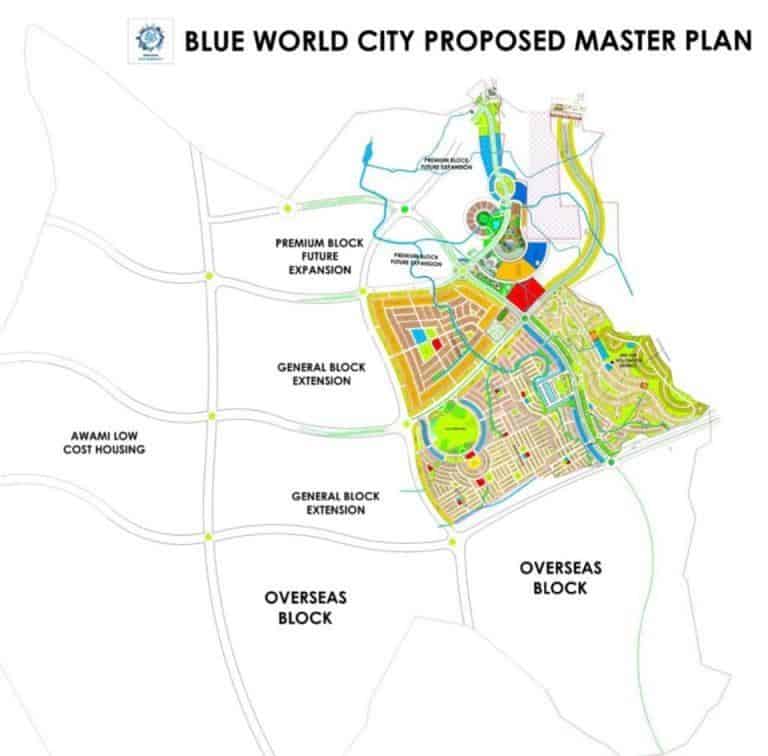 The total area that Blue World City covers is 75000 Kanal which is planned to be divided into four main phases and then further into blocks and plots. The housing scheme offers:
residential plots starting from 5 Marla's to 2 Kanal (5, 8, 10 Marla's, 1 and 2 Kanal)
Residential farmhouses of 4 and 8 Kanal.
Commercial plots of 5 and 8 Marla's.
The housing authority offers installment plans that vary from 3 to 4 years. The booking can be made with a 10% down payment as low as 80,000 rupees.
Blue World City Overseas Block:
Blue World City Overseas Block is a specially designed landmark within the society for overseas Pakistani residents to provide them with the perfection of a luxurious lifestyle at the best of their expectations. The number of commercial plots is quantified to a small limit; hence only those who can avail themselves will come first.
The uniqueness of the blue world overseas block is its international standard facilities that overseas Pakistanis usually demand. The overseas block consists of a limited number of commercial plots:
7 Marla's
10 Marla's
14 Marla's
1 Kanal
2 Kanal
 Blue World City Waterfront District:
Blue World City Islamabad is a promising community with serenity, luxury, beauty, and splash entertainment. Blue World City Waterfront Block is another major project undertaken by Blue Group of Companies in the capital. The Waterfront region provides the world-class best residential and commercial sites with a quiet environment and advanced technology. The cherry on top is the main area of the community itself, as it is connected to the twin cities.
Blue Hills Country Farms:
Having a farmhouse is like having an escape valley where one can snap off from his daily life and hop in the comfortable quilt on the cloudy bed in his farmhouse! Blue World City brings the chance to buy lavishing farmhouses at an affordable budget.
The farmhouses are located in the most peaceful alley of the society, surrounded by natural beauty and a serene water stream flowing nearby.
Blue World City Awami Complex
It is the latest addition to the Blue World City family. The society now comprises independent and duplex units with all the basic facilities and necessities to make its residents' lives luxurious and remarkable. The complex building consists of five stories. The first three floors are dedicated to duplex villas, whereas the rest of the top floors are for apartments.
Awami complex residential apartments
Apartments:
375 Sq. Ft. 1-bed studio apartment
550 Sq. Ft. 1-bed family apartment
830 Sq. Ft. 2-bed family apartment
Facilities and Amenities:
Following are some of the thoroughly discussed facilities and amenities of the residential society:
Water, Gas & Electricity:
Blue World CityIslamabad is arranged in a moderately distant spot. This region has been ignored for a long time; the associations for power, gas, and water are infrequently conceded. Even though it was a hard assignment, the representatives worked nonstop and interminably to encourage the financial specialists and to furnish them with the necessities of life, including a day in and day out hour accessibility to gas, power, and gas so the residents of this general public could appreciate a tranquil life.

Replica Of Blue Mosque in Turkey:
Blue Mosque in Istanbul, Turkey, is a wonder of old-style engineering worked between 1609 by Muslim originators and designers who have roused the organizers of the Blue World City to manufacture an imitation of this stunning mosque in the general public reestablish Islamic qualities and culture in Pakistan. After the Faisal Mosque, the copy of the Blue Mosque will turn into a milestone and will draw in guests to this general public. The mosque will speak to and supplement the topic of Blue World City.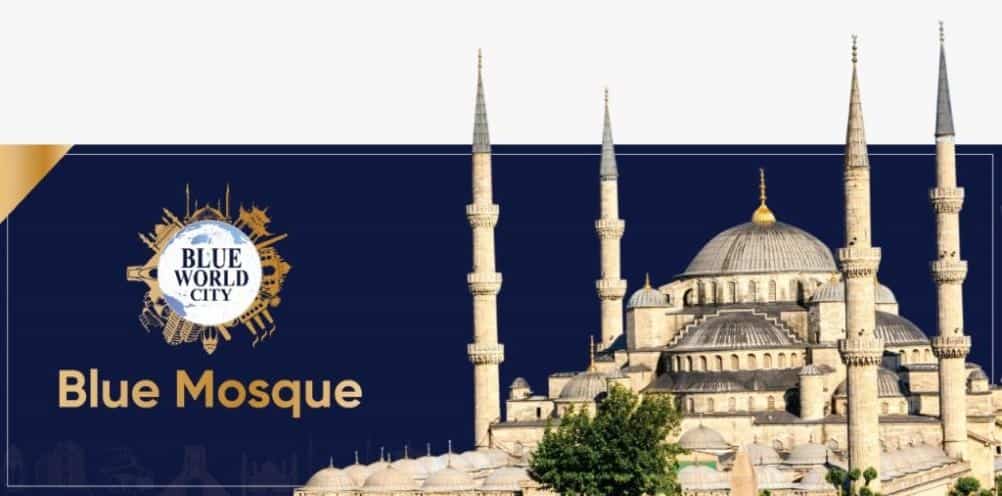 Commercial Hubs, Schools & Colleges:
The general public will demonstrate getting one of the district's greatest business center points with the CPEC course in its closeness; the business openings are perpetual. The end-all strategy of this dynamite society has been planned, including cutting edge, present-day business roads, and high requirement instructive offices in all the general public areas for the availability of individuals.
Water Theme Park:
Park will incorporate fun water rides, slides, wave pools, volcanic cascades, exceptionally planned water pools for underage kids, and water surfing. The general public has intended to assemble the greatest and Pakistan's first international water subject.
Gated Community:
Blue World City will be a vigorously protected and gated network. Unapproved individuals will be restricted from the general public. A safe limit divider will encompass the general public to add a layer of security. Extra highlights, for example, face acknowledgment and key cards, will be consolidated in the general public to stay away from undesirable guests and incidents in the general public.
24/7 Security:
Blue World City takes the security of its occupants and guests truly; an uncommonly prepared security group will screen and guarantee the wellbeing of its inhabitants day in and day out. CCTV cameras will be introduced all through the general public to manufacture a safe climate in the lodging society so you can appreciate a lavish pressure climate.
Sector And Jamia Mosques:
Each area of society will have uniquely planned area mosques for the occupants of every area so they can supplicate easily and satisfy their strict commitments with no issue or significant voyaging. To oblige individuals for the more Jumma petitions, Jamia Mosques will be worked all through the general public to accommodate the tenants and guests of the general public.
Carpeted Roads:
The general public has just started chipping away at the foundation, The first of that progression is to construct a wide organization of covered streets for the general public to interface all pieces of the general public. These streets are proposed to be 40, 60, 80, 100, and 120 feet wide separately and will likewise have solid pathways and walkways for the people on foot and cyclists.
Public Transport:
The general public will have an internal organization of the public vehicle framework in the general public to make going into the public arena simpler for the inhabitants, just as any individual who is visiting the general public.
Electric Power Plant:
To make the general public a heap shedding free zone, the authorities have proposed introducing an electric force plant in the public eye. With society's one-of-a-kind force plant, the accessibility of power to the general public will guarantee a more professional and profitable network.
Underground Electricity:
Even though the idea of underground power isn't new, and all the most current lodging plans are choosing it, it has become a fundamental redesign for the well-being of the network. Not just this progression will acquire an improvement in the excellence and rich arrangement of the general public yet will likewise be much more secure and diminish the odds of any accidents.
Sports And Cultural Complex:
Multifunctional sports and social complexes will be implicit in Blue World City to engage and advance various societies and advance extra-curricular exercises in the general public.
Sewerage Treatment Plant:
Condition of artistry sewerage treatment plants will be introduced to the general public to guarantee a clean and eco-accommodating garbage removal framework in the general public.
Water Filtration Plant:
Blue world city will be an independent and feasible society. One of the most conspicuous highlights of a free lodging society is to have the option to furnish its occupants with clean water. The establishment of an imaginative water filtration plant will guarantee the gracefully of clean water wherever in the public eye and improve the area's everyday environment.
Oxygen Park and Lake:
The Oxygen Park and lakes in the general public will add to the excellence of the general public and the allure of society. These urban green spaces are fundamental to positively affecting well-being, making social associations, and helping the climate.
3D I-Max Cinema:
Films have become an effective diversion and recreation method in the lives of individuals in any network. Blue World City will acquaint 3D I-max films with bringing the most cutting-edge innovation and diversion to its kin.
Adventure Club:
The general public will have an undertaking club to unite the network and make social associations in the public eye. This club will organize an assortment of brave exercises for the joy of its individuals, including horseback riding, soil bicycle riding, paragliding, dropping, climbing, etc.
Safari Zoo:
One more striking element in the general public will be its Safari Zoo, with a protected drive away amid the general public with wild creatures meandering uninhibitedly won't be just energizing but will give an exceptional encounter to the guests. The zoo will contain a wide range of types of creatures and fowls imported from all around the globe.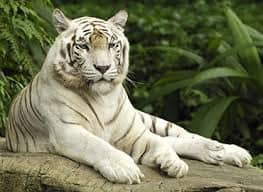 Water Pools and Spa Clubs:
Another extravagance that the tenants of this general public will appreciate will be its warm and freshwater pools and spa club. These brilliant spas and pools will permit the individuals to appreciate an assortment of loosening up medicines just as helpful meetings.
Police Station:
Blue World City will likewise have a completely practical and responsive police headquarters in its environmental factors to help with any criminal experiences and criminal behavior in the general public.
40-Bed Hospital:
Wellbeing is the main worry in any network, a completely operational 40-bed Hospital is planned as a huge portion of the all-inclusive strategy of Blue World City. This cutting-edge new well-being office will be furnished with the most recent innovation and hardware to encourage the patients and manage any crisis circumstance in the general public.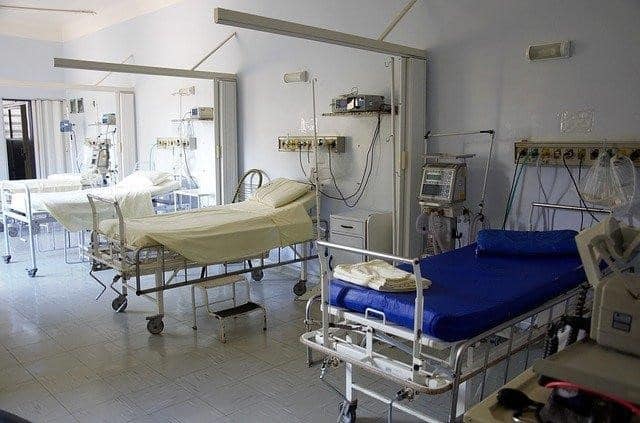 Pak-China Friendly City:
This mega housing society project is not just an investment point but is a mission to accomplish progressive friendly relations with the Chinese. The Blue World City management authority signed a memorandum of understanding (MOU) with Shan Jian municipal engineering company, China's leading development and investment organization. The Pak China-friendly city is supposed to have:
Chinese and Pakistani development, progress, and architecture
Pak-China investment
CPEC route proximity
Residency of Chinese citizens and workers
Why Invest in Blue World City?
This mission aims to change the perception of low-class living standards in Pakistan. It is a great chance for all those who want to have a luxurious lifestyle and a dream home but do not have a big budget to invest in. This project promises the best lifestyle and living standards in reasonable and affordable investments.
Here are some valid reasons for you to choose Blue World City:
Affordable budgets and investments
Easy installment plans
Up to the mark facilities and services
A family community
Luxurious lifestyle
State of the are technology
The right time to invest and get a maximum return
Booking Procedure
To book land in Blue World City, visit the office with the following documents:
Two passport size pictures
Two copies of NIC
Two copies of any kin's NIC
Two copies of overseas national ID card for an overseas Pakistani
Frequently Asked Questions (FAQs):
Following are the FAQs about the residential society:
Q1: What is Blue World City, and where is it located?
Ans: It is a real estate housing scheme project where one can buy and invest inland. It is located on the main Chakri Road, Rawalpindi.
Q2: Is the Blue World City project illegal?
Ans: The NOC approval is under process and will be granted to Blue World City soon. Hence, Blue World City is not illegal; it is a guaranteed legal housing society.
Q3: How long will it take for society to develop?
Ans: The work has started. The given time of development is 3 to 4 years.
Q4: What are the installment plans?
Ans: The project offers installment plans for all the categories of land. The plan varies from 3 to 5 years.
Conclusion:
Blue World City is not just a project but is a dream for those struggling to build an asset and have a life of comfort. It is a dream for every individual who visions having a name. An identity. It is a mission to make low-class living standards into international standards on a limited budget. It is affordable and convenient for the clients to buy and invest.
The other main factor of the project is the establishment of strong ties between Pakistani and Chinese residents. The accommodation for the Chinese is made to the international standards to meet their level of expectations in Pakistan and improve the Pakistani living culture.
It is the best time to invest and expect a full return as the housing society is in the developing phase. Undoubtedly, Blue World City is the next milestone for Pakistan in real estate.