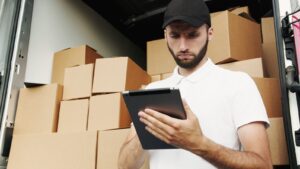 Moving can be a long and complicated process that requires a lot of preparation and logistical planning. Most of the time, you will need specialized handling, packaging, and transportation.
Whether you're moving to a new home or relocating office furniture, hiring a moving company can make the process easier. However, getting your things from point A to point B isn't the only aspect of moving. In most cases, you'll need to keep your items in storage for a while, so hiring a company that offers both storage and moving services will make the job much easier.
Reasons For Moving Storage
There can be several reasons that make storage necessary. You might have a few days between the end of your old lease and the start of your new lease. Perhaps you are traveling on a different schedule than the moving company and won't receive the items. The new location may need to be renovated before you can move in completely. Using the same company that stores and moves items can ease the logistics of a move, regardless of why you need storage.
Benefits of Storing with a Moving Company
These are just a few reasons why you may benefit from using a moving company to store your items.
Specialized Storage Units
Moving companies in your city will provide you with storage units that fit the local environment.  For example, if you're in Shreveport and looking for services of storage units Shreveport companies, check out Strong Point. They offer climate-controlled storage units. In a humid and stormy city like Shreveport, the extra feature of climate control allows you to keep your items safe and sound. Choosing a moving company that offers these features is a good investment.
Less Logistical Planning
If you're using a different company to store and move your items, then you become the point of contact between the two companies. You would be forced to create detailed schedules for pickup and drop-off of your times, and to make sure both companies stick to the schedule. For example, if your moving company is late getting to the storage unit, you're paying the storage company just to sit around and wait. Moreover, if you're using two companies, you'll have to follow two sets of rules and policies.
It's easier to work with one company, so moving and storing teams can work together and ensure that the transport of your items follows the proposed schedule. Moreover, you'd only have to keep track of one contract and payment estimate. It also saves you time by having to consider the reviews of only one company instead of two or three.
It Saves You Money
There are many companies that offer package deals if you use them for both storage and moving. Typically, they do this by waiving the fees associated with transport to and from the storage facility. A move is already an expensive procedure, and you should look for ways to reduce the costs without sacrificing quality. If you save money by transporting your possessions from the storage facility separately, you can invest in insurance for the storage unit.
Some moving companies don't deliver to storage units. The items would be dropped off at your new house, and then you'd need to transport them to the storage unit yourself or pay for the storage facility to come pick them up. Using the same company will prevent you from running into this issue, making it more affordable than paying for moving and storage separately.
Skilled Assistance
When you work with just one company, you'll benefit from professional assistance throughout the process. You can expect the movers to unload your belongings, organize them within the storage unit, and reload them into the truck. However, if you use two different services, you might have to perform some of these steps yourself. Packing and unpacking can be problematic, as you run the risk of damaging any items you move. It is better to leave those tasks to the professionals. Your items would be transported safely by the movers using tools such as forklifts, dolly carts, floor sliders, etc.
Avoid The Blame Game
By hiring a reputable company, you can avoid theft and damage to items. However, it's a good idea to have a contingency plan in place in case the worst happens. We already discussed getting insurance but claiming it can be more challenging with two companies.
If you use two companies' services, there's a high likelihood they'll blame each other if you suffer a loss. If you lose or damage any of your items while in transit, the moving company will try to get the storage company to foot the bill. It is easier to file an insurance claim if you streamline your process to just one company.
Security of Your Items
Companies with a good reputation are more likely to ensure that every aspect of their business is positively reviewed. If you're vetting companies on Better Business Bureau, you're unlikely to find a highly rated company for moving services but poorly rated for storage. Instead, you can rest assured that your items are treated the same way whether they are in the truck or the storage unit.
Good companies will provide tracking services on their trucks, security cameras, 24-hour customer service, etc. It's a good idea to entrust your possessions to the moving company that will handle them during the moving process if you need to store some of your belongings in a secure location.
Final Thoughts
Moving is a part of life yet it can be highly stressful. Despite going through a major change in your life, you will have the responsibility of planning, organizing, and delivering items safely. Moreover, keeping a check on dates and documents is also heavy on the shoulder. The best option here is to relieve yourself off the load as much as possible. Hiring one company to avail of all the services of moving can ease much of your burden. This guide demonstrates how using the same company for both moving and storage can simplify the process. With the right company in your area, your next move may not seem so challenging.